The astonishing number of information shared and generated online these days shows how easy it is to reach out to your audience.
However, as technology improves, it can be an uphill struggle for digital marketers and brands like you to win the battle for attention. At the same time, it may be a challenge for your target audience to find you.
So how do we address this dilemma?
Infographics may be the missing piece in your content strategy
Investing in high-quality visual content assets, such as infographics, is the content marketing solution you're looking for.
With infographics, you can convey information more effectively and creatively by pairing powerful storytelling and strong data presentation.
In short, infographics allow you to present data, share insights, and tell a story in just a few seconds.
Keep reading for reasons why infographics should be a part of your content marketing campaigns moving forward.
1. Infographics can help you win the battle for attention
Visuals will always appeal to humans. Most of the time, people pay more attention to visuals than they do in texts. Watch the video below to learn how visuals play a critical role in powerful business communication, learning, and memory recall.
If words fail to capture your audience's attention, using infographics can do the job better.
When you present data creatively with graphs, charts, and tables, your audience will be more drawn to your content since it'll be easier to understand.
Additionally, creative and compelling content might help make your work go viral, allowing you to generate more followers.
2. Infographics can boost your brand awareness
One essential purpose of infographics is that it can help increase brand awareness.
In a survey of B2B marketers in North America as of July this year, 86 percent of respondents shared that brand awareness was one of the organizational goals that they accomplished thanks to content marketing. Adding infographics to your content marketing campaigns can undoubtedly bring about many benefits.
Instead of using lengthy texts to introduce your brand to your audience, you can use infographics to share relevant information.
You can also include your brand logo, website, email address, and contact information. Highlight only the most essential information that your audience needs to know, making it more readable and easy to digest.
3. Infographics can increase search marketing results
You're probably wondering how infographics help improve your SEO.
When you create compelling and attractive infographics, you can gain more audience and make your content go viral.
You can use this to your advantage by linking and sharing your infographics to social media and other channels.
Besides, infographics are also easily embeddable. You can include an embedded code to the infographics you upload, which automatically backlinks to your site. With Easelly, you can quickly get an embed code for your infographic.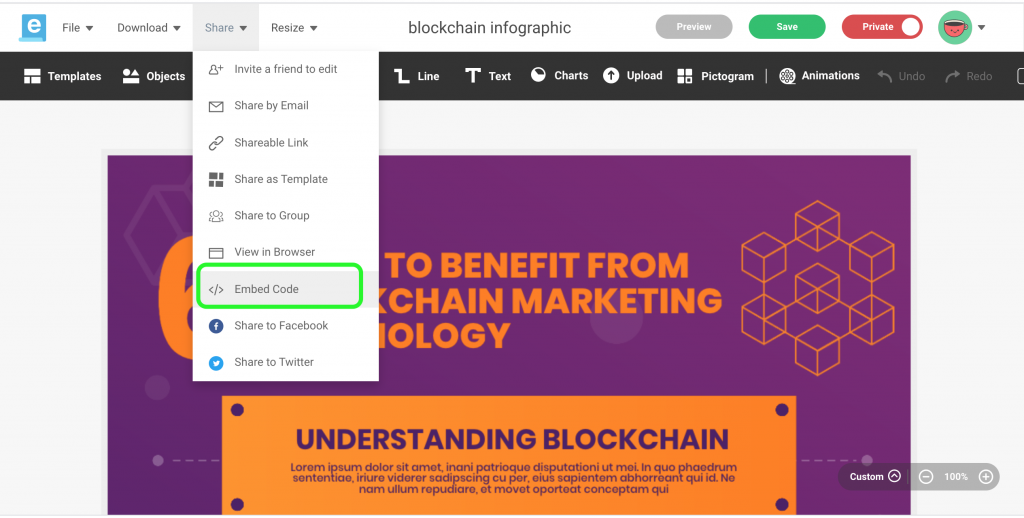 4. Infographics help improve audience engagement
Infographics are also beneficial because you can also use them to generate and engage social media followers.
Have you seen those infographics on Instagram, Twitter, or even Linkedin?
As your social media following grows, it opens a door for better audience engagement, making followers more aware of your brand, eventually converting them to become paying customers.
5. Infographics help position you as an expert
Using data can make your content more trustworthy and credible.
However, numbers and long blocks of text are not eye-friendly, and the audience can easily lose interest.
Instead, you visualize this data using charts, tables, and graphs in your infographics, making it easier to digest your information. A good example is when you use infographics to supplement your webinar.
Meanwhile, presenting data requires effort to dig into facts, figures, and information. On top of that, it requires the creator's knowledge of what data to look for.
As a result, this builds your online credibility and reputation in the industry as someone who creates well-thought-out content.
6. Infographics go beyond digital marketing
Take your infographics offline with brochures, posters, and banners. This is a great advantage if your target demographic are the types that would rather have something tangible to hold. Some people might prefer taking notes with your handouts while listening to your presentation.
As you expand beyond digital marketing, it allows you to generate more leads and sales.
7. Infographics are also learning tools
Infographics are useful educational tools because they can make complex information easy to understand.
For starters, infographics can help you create visual aids for presentations and eye-catching modules to generate more interest. Organizations can also incorporate infographics in training employees.
If you want to try a do it yourself approach to develop infographics for education, here is a closer look at the process:
Choose a topic
First, find an appropriate topic that resonates with your audience.
Whether your audiences are grade-schoolers, students taking your online course, colleagues, or business clients, choose a topic according to your audience's needs and level of interest.
Research
After selecting an appropriate topic, researching about it is necessary to create your infographic.
Adding relevant data will help communicate your idea more effectively. Besides, presenting accurate data builds one's credibility and reputation.
Sketch the story
Once you complete your research and collect the information needed, you can envision how you want your infographic to appear.
Sketch out the story that you want to tell and develop a narrative. You can also begin to transform collected data into visual elements.
You can opt for a simple pen and paper combo or use graphic design software to speed up your infographic creation, making your content more appealing to your audience.
Choose a design platform
Lastly, you need a design platform to put everything together.
Even if your design skills are limited, there are many design platforms available that can turn your visions into actual infographics. For example, Easelly's infographic tool enables you to create visually-compelling and professional-looking infographics despite zero design experience.
You don't have to hire a graphic designer or spend hours conceptualizing how your infographic will look. By using infographic templates, you don't have to start from scratch. All you have to do is add your content and share it with your audience as soon as it's ready.
Wrapping up
The highly competitive marketplace environment requires businesses to take extra steps to capture their target market's interest and attention.
If you're using infographics as part of your content strategy, thriving in the industry becomes more manageable. What's more, using infographics are not only visually appealing but also educational and enjoyable.
Finally, humans are naturally drawn to visualizations. Therefore, if you want to keep them focused and interested in your content, infographics are the best way to go.
---
Editor's note: This blog post was written in collaboration with CompareCamp, a SaaS software comparison site.