Editor's note: This is a guest post by Ryan Robinson of ryrob.com
It's already well-established by now that content marketing is one of the most powerful marketing tools to build brands.
B2B content doesn't have to be dry, serious, and too technical.
There has been a radical shift in storytelling techniques in recent years and how content is consumed and distributed in B2B marketing.
However, what's constant is that quality content is (and will always be) the key to success.
B2B marketing tactics to help accomplish your 2021 goals
From starting a blog and being active on social media to video marketing, producing podcasts, infographic creation, email marketing, and hosting webinars—content marketing enables you to spread awareness, generate leads, build loyalty and strengthen your relationship with your customers, giving brands every reason to embrace it.
As we get ready to step into 2021, let me take you through five content marketing tactics every savvy B2B marketer should employ.
1. Long-form written content with standout visuals
Long-form content refers to any blog post that has a word count of more than 1,000 words.
The optimal length for a blog post is in the 2,250 – 2,500 words range as per HubSpot.
Now, what makes long-form content the most effective type of blog content?
When you write long-form content, you cover a more comprehensive range of topics in depth, getting the opportunity to reach more people.
It also builds credibility and positions your brand as a subject matter expert.
Long-form content is also a good boost for your SEO because you get to strategically place more keywords and insert more quality backlinks linking to your blog and other credible websites.
Moreover, if a piece of long-form content is considered valuable, it also increases visitors' time spent on the site and encourages more social shares.
Pro tip: Don't look at writing long-form blog content as work. This tactic will likely fetch you a more significant ROI than short-form pieces, especially when paired with a high-quality data visualization, charts, and infographics that will engage the visual learners in your target audience.
The infographic below is a good example of a visual paired with a long-form written content. The good news is you don't have to make visuals from scratch. You can either use infographic templates or hire experienced infographic designers.
2. Tutorial-style YouTube videos to pair with your blog content
It's the age of video and a great way to increase engagement on your blog is to pair YouTube videos with long-form written content.
You might write a lengthy blog post, but what's the guarantee that people will sit through the entire article?
This is where tutorial-style videos can help bring your blog content to life and make it more appealing. Video editing is an important part of this process so it's important to brush up on this!
All you need to do is convert the blog post into a crisp video and use screencasting tools to create screencasts as you speak and demonstrate the steps.
Here's an example of a tutorial video I embedded in one of my blog posts on starting a blog.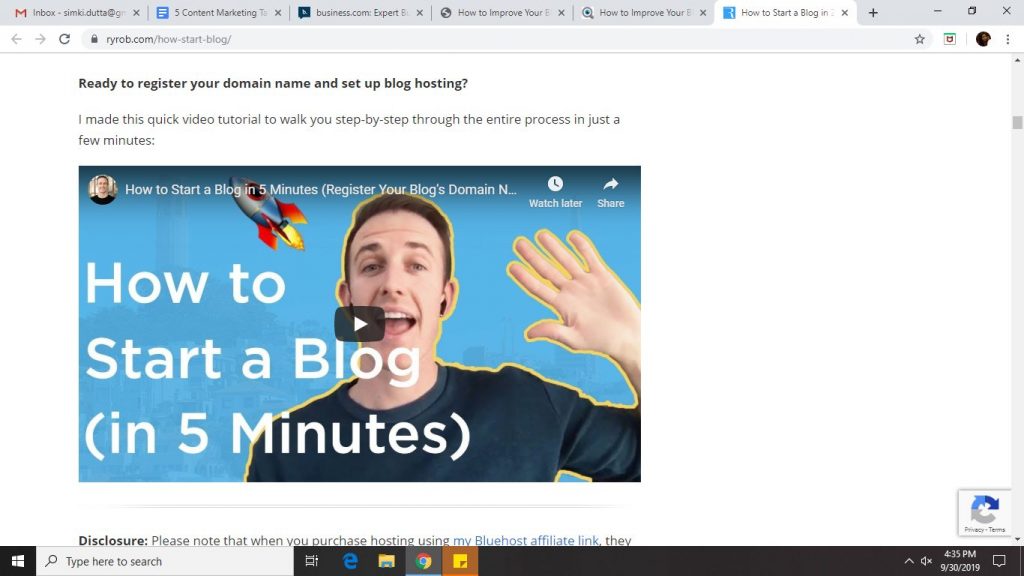 3. Podcasting to support your content initiatives
Today, content is being consumed in various formats and across multiple devices. As a B2B marketer, you need to appeal to a broader audience by offering different types of content.
One such format that is considered to be a massive value-add to your content strategy is podcasts.
Their easy-to-consume, immersive, and engaging format has contributed to their popularity, which is only believed to grow further.
Podcasting is also an effective way to humanize your brand and connect with your audience.
Personally, I find podcasting to be extremely fun and fulfilling. Through my podcast, The Side Hustle Project, I interview some of the world's top entrepreneurs, which mirrors what my blog is predominantly about.
One of the best aspects of podcasting is that it's not difficult to get started—all you need is a basic recording microphone, reliable podcast hosting and a compelling story to share.
4. Strategic guest posting
What's new about guest posting?
Hasn't it been around for the longest time?
Yes, it has, but it's time to be clever about it and adopt a strategic approach once you've got your fair share of experience in guest blogging.
When you're writing a guest post, don't just link to your own blog content. This is an excellent opportunity to link to other notable bloggers' work who you want to connect and build a relationship with. After all, everyone loves a backlink.
Once the article gets published (with their link), you can reach out to them and encourage them to share it on their social media platforms.
Depending on their responsiveness, you can also consider pitching a guest post to their blog.
Finally, if you've managed to write for leading blogs and publications, you must make it a point to show it off in a prominent location such as your email signature or homepage, as it strengthens your reputation and credibility.
5. Webinars and live Q&As
If you want to deliver thought leadership content or conduct a live Q&A, ditch that blog post, and host a webinar instead.
A particularly good idea for B2B brands, webinars are a surefire way to stand out from your competitors, engage with potential clients, generate high-quality leads, drive value and position your brand as an industry expert in an interactive manner.
When you plan to host a webinar, make sure you make ample noise about it by posting about it on social media, placing sign-up forms on your website, and sending emails to your database to maximize attendance.
Remember, don't make your webinar a sales pitch.
The idea is to deliver value and address the attendees' challenges, giving them a reason to consider your brand when the time comes.
Final thoughts on leveraging content marketing this year
Content marketing is constantly evolving, and as marketers, it's important to stay updated, experiment, track performance, and measure success.
Regardless of the medium or format, always create relevant and high-quality content that resonates with your audience and compels them to take the desired action.
These are certainly exciting times for content marketers, so as 2021 approaches—let's get ready to embrace these crucial tactics for greater B2B marketing success.
Recommended resources for B2B marketers who want to level up their content marketing efforts:
---
Ryan Robinson is a blogger, podcaster and side project aficionado that teaches 500,000 monthly readers how to start a blog and grow a profitable side business at ryrob.com