You probably know what gated content is, even if you've never heard of the term itself.
If you've ever asked or have been asked for your details in exchange for a free ebook, video, or product demo, you've encountered gated content.
For marketers, gated content can be an effective way to generate leads—but the question remains whether this is always the case.
We put together this beginner's guide on whether gated content is the right strategy for you — from examples to an in-depth look at some of the benefits and drawbacks of using it.
How to use gated content for lead generation
When you hop onto a company's website and click on their blog, you're likely to be welcomed with an array of articles.
Once you click on these articles, you can expect one of two things: to be presented with the content immediately or have to sign up or pay to access the content.
You might have noticed the latter on news outlets and media websites like The New York Times that ask for a subscription commitment upfront before allowing you to access their content. This is often accompanied by a call to action or a plea: "Sign up to read the entire article!"
Gated content is content that users can access once they hand over some information, such as your name and email address, or payment, including subscription fees.
By capturing information about the user, you can convert leads or target potential customers through your marketing efforts, such as using their email addresses to send them marketing emails.
But does this work all the time? Not necessarily.
Pros and cons of gated content
While it does provide somewhat of a barrier for the user, gated content allows you to separate those who are genuinely interested in your content from more casual users.
You will understand that the users who have signed up for your gated content are the ones who are interested in your product or service.
Other benefits of gated content include:
Bolstering your email subscriber list which in turns increases the reach of your marketing activities.

Making it easier for you to generate new leads.

Providing you with higher quality leads, allowing you to focus your resources better.

Helping you sell the idea that the content behind a paywall (or online form) is high quality, encouraging users to part with critical information.
Below is an example of how you could use gated content to your benefit, using a form to encourage sign-ups: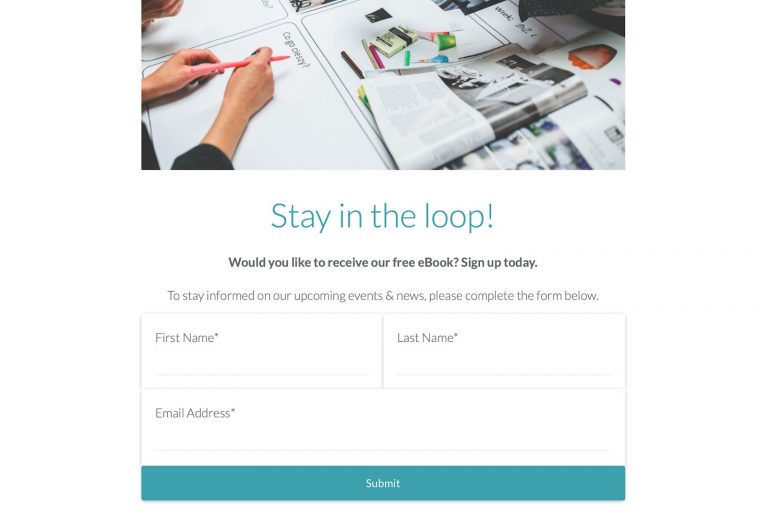 There are, however, some drawbacks to gated content you should be aware of. These include:
Putting off customers who would prefer not to divulge personal information, even if your product could solve their problems.

No guarantee of conversions even if you do gain leads.

Creating barriers that otherwise would not exist between customers and content.
For many businesses, these drawbacks are worth it, but they might not apply across all industries.
Some firms can experience tremendous success through content-gating strategies. Others might discover that it is inappropriate for their particular business or stage in the marketing funnel.
So when should you use gated content?
Whether you use gated content or not depends heavily on your marketing goals.
Moreso, the type of content you create and whether you gate it or not heavily depends on which stage your target audience is in the marketing funnel.
When your goal is to introduce yourself to as many customers as you can (or increase brand awareness), gating content is not the best idea.
Putting up gates and barriers could impede their process of finding out as much as possible about your business.
In addition, if prospects don't know who you are or what you sell, they are less likely to hand over critical information anyway. You haven't earned their trust yet.
One way to win their trust is to give them access to engaging content, whether that be videos, articles, newsletters, or business infographics.
As soon as you move further down the marketing funnel or buyer's journey, you may want to consider gating additional content.
If, for instance, a user has viewed an introductory video series, it makes sense to prompt them to enter their email address to get the rest of the videos. The same rule can be applied to gated webinars, software downloads, certain sections of an eBook, or infographic videos.
Finally, if a customer has demonstrated high interest in your product (e.g., by trialing a demo version) and thus has a higher chance of conversion, gated content may be a worthwhile consideration.
Since customers at this stage are interested in what you do and believe that your product or service can meet their needs, they are more likely to willingly hand over details, like their email address, to access free trials and product demos.
Consider this your opportunity to reach out to them for future marketing campaigns.
Compelling examples of brands using gated content to generate leads
Here are 3 examples of gated content done well :
Audible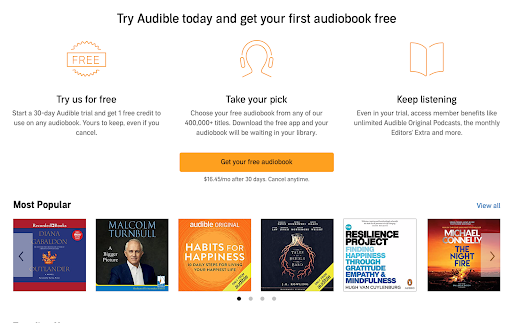 Not only does Audible provide a clear call to action to their gated content, they are also constantly reminding the reader of the numerous benefits of signing up for their service, including access to hundreds of thousands of audiobooks.
One of their most persuasive tactics is offering a short-term incentive in the form of a free audiobook as a reward for subscribing.
By utilizing a combination of immediate and long-term rewards, Audible uses gated content to not only define their business model but also make it advantageous and appealing to the viewer.
Harvard Business Review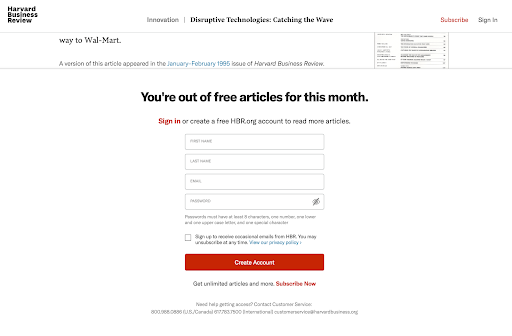 Online publications do gated content differently. Harvard Business Review is a model example because it gives users access to a couple of long, high-quality articles before prompting them to sign up.
This is an example of perfectly-timed gated content. By giving readers a taste of what they will receive if they subscribe, it reinforces the call to action to keep reading more.
Neil Patel
Popular internet marketer Neil Patel eases users into providing their contact details by presenting them with an offer they can't refuse: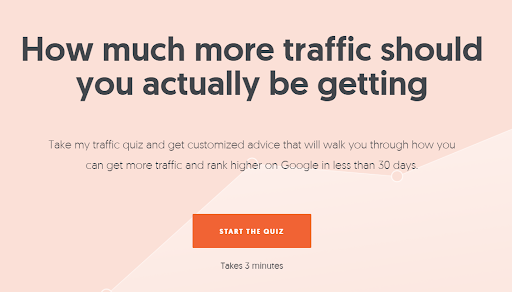 While this quiz is a lengthy 8-question process, those who make it to the final step immediately qualify themselves as being extremely interested in its outcome. These users are highly likely to provide their details to move past the gate and access the content that lies on the other end.
How to gate your content
Once you've decided that you're interested in gating your content, how exactly do you approach creating that gate?
It turns out that there are a few options available to you.
Whatever option you end up choosing, the first thing you'll need to do is create a landing page. This page will act as the gate to your content. At the very minimum, your landing page will need the following components:
A compelling message that convinces visitors that they need to read your content.

An online form that allows you to collect information from visitors.

A page for your form to redirect to, which houses your optimized content. This can either be a regular webpage page or a location to download your content in PDF form. The latter is generally more suited to content like eBooks and whitepapers.
As a best practice, it's good to set up an automated email response for those who fill out your form. This will not only give them another opportunity to access your content it could also be the crucial first step for creating an engaged and active email list (if that is your end goal).
Wrapping up
The way you use gated content will be different to many other businesses. You might gate secondary features of your product or service, or restrict content after hitting a certain limit. You may even decide that a gated content strategy is not for you.
Whatever your decision is, finding a good balance and a compelling reason for gating content is the key to maximizing this tool for lead generation.
Combine your gated content with consistent messaging and clear calls-to-action for a well-rounded marketing campaign.
---
Editor's note: This guest post comes from Jodie Lee of Paperform.
About the Author

Jodie Lee is a growth marketer and content writer at Paperform, an online form builder. She enjoys covering topics related to product marketing, technology and workplace productivity. When she can, she loves to travel, play sports and watch all the latest TV shows.