Have you ever found yourself squinting hard while reading too small instructions in your coffee maker manual? Or have you had problems filling out an insurance claim form online due to unreadable fonts and technical language?
How about the image below? What do you make of it?
Imagine if the labels "high" and "medium-high" are absent for each pie chart. Do you think new website visitors would be able to understand what each set of data implies?
These frustrations are often a result of a lack of understanding you as an audience, user, or viewer. The practice of information design aims to address these painful, challenging scenarios.
What is information design?
Information design — sounds complicated and nerdy, right?
By and large, the primary goal in information design is clarity of communication.
In this blog post, we're going to take a closer look at how this goal is accomplished and why information design matters now more than ever.
Information design helps people make sense of data
Look around you. Have you noticed how we're all surrounded by data and information?
Whether offline or online, our five senses are constantly receiving and transmitting information. It's no wonder that data is touted as the new currency.
However, data is not the same as information. Data don't have inherent value unless you know how to use it — or have a methodology to initiate the process.
In short, data is useless unless they're presented in a way that is accurate, clear, engaging, and easily absorbed. Information designers help people make sense of data.
Understanding the duality of information design
It's worth noting that a single definition of information design is quite difficult to pin down. As American usability writer and consultant Janice C. Redish writes — the difference in definitions may reflect an ambiguity between using the term design in an expansive sense and, at the same time, in a narrower sense.
According to Redish, information design involves the whole and its parts at the same time. It includes:
1. The overall process of developing a successful document
2. The way the information is presented on the page or screen (layout, typography, color, and so forth)
In The Practical Guide to Information Design, author Ronnie Lipton echoes Redish's sentiment citing that information design is both a discipline and a lifelong opportunity.
We searched the interwebs for a good definition of information design that closely resembles how it's done by the majority of information designers today. Here's an excellent definition by the Society for Experiential Graphic Design:
Information design is the practice of presenting information in a way that makes it most accessible and easily understood by users. Information design is targeted to specific audiences in specific situations to meet defined objectives. In its most sophisticated forms, it helps users understand complex data by organizing and simplifying data and information in ways they can quickly grasp.
Bringing various disciplines together towards a common goal
As a practice that intends to present information in the clearest possible way, the Information Design Association highlighted that information design requires skills from various disciplines. Rune Pettersson, Ph.D. Retired Professor of Information Design writes in his 2014 essay Information Design Theories:
Information design of today has its origin and its roots in 1) graphic design, 2) education and teaching, and in 3) architecture and engineering, or rather construction and production.

Today information design education ranges from short courses to several years long programs, some even reaching PhD-level. The discipline is also named communication design, document design, and presentation design. In the future, it is quite possible that some universities will introduce very similar design subject matters and use other names. We will have to wait and see.
In a nutshell, information design requires expertise from a wide range of disciplines. Successful information design is a collaborative effort of skilled visual designers, writers, editors, illustrators, data visualization experts, human factors specialists, and usability specialists.
For example, you will need a skilled writer to translate technical language into clear, simple instructions. Meanwhile, an editor will ensure consistency in spelling and punctuation. Next, a data visualization expert will help choose the right chart or graph for clarity in communication. Finally, the visual designer will come up with the appropriate icons based on the usability testing findings that were uncovered by the user researcher.
What is effective information design?
Information design applies to a broad range of applicability — from street signs to websites to restaurant menus. Effective information design, however, shares common characteristics. Author Ronnie Lipton writes in The Practical Guide to Information Design that effective information design accomplishes the following objectives:
It helps people navigate and understand the increasingly complex world of facts, figures, directions, and demands.
It helps users finish a task, solve a problem, or meet a need.
It minimizes or eliminates frustrations.
It begins and ends with understanding the people who will use the content and making sure that the content and its presentation and delivery serve them.
Although we've highlighted the benefits of effective information design to users or the audience, it's worth noting that it also helps businesses thrive and meet their goals in the long run.
Clear communication improves cash flow by improving customer retention, boosting customer satisfaction, and attracting new customers. Not to mention that it can impress potential investors and stakeholders!
The information design process
Each information design process is unique. Factors like budget, timelines, user needs, and business requirements will influence the process. The infographic below shows what the information design process is like in the broader sense.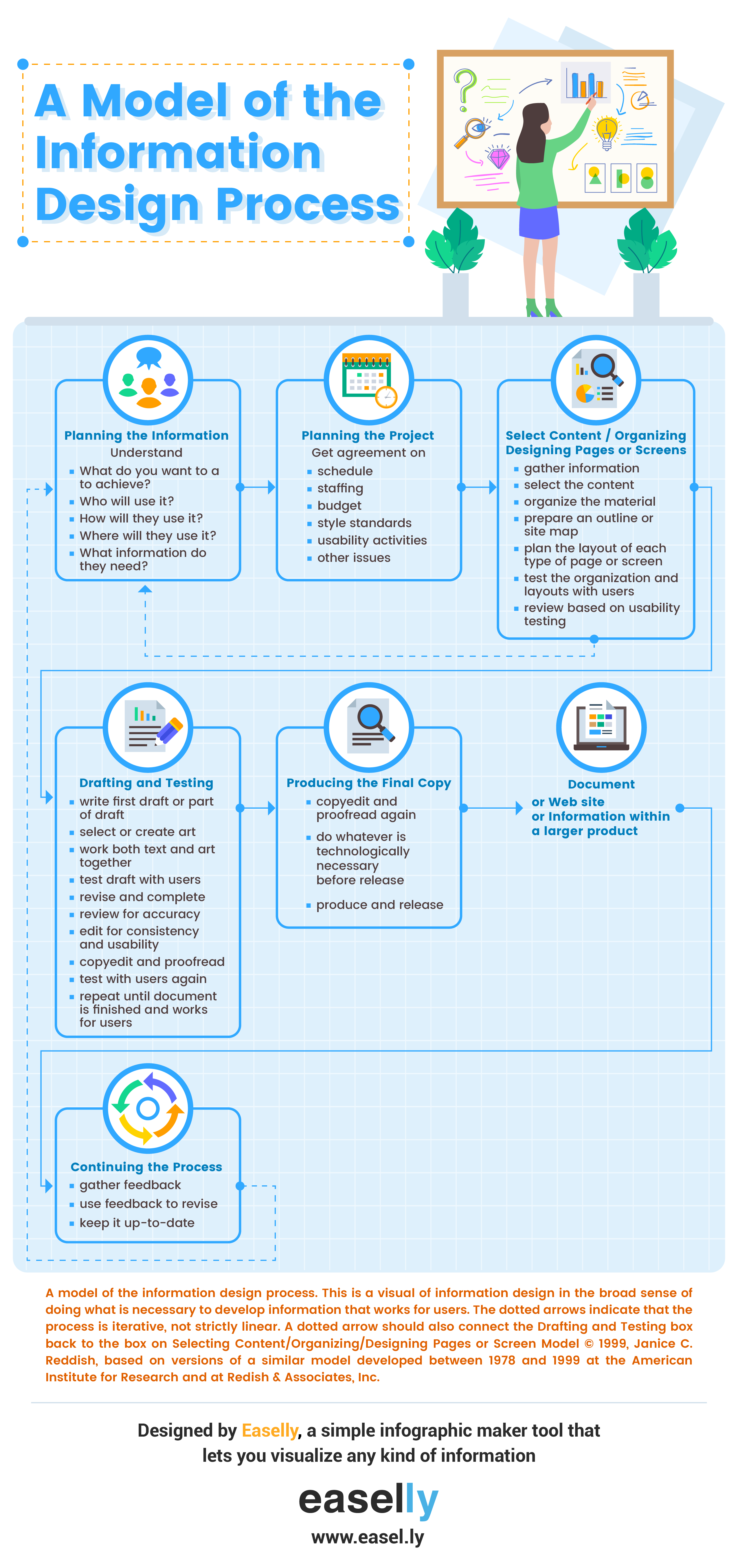 If you'll notice in the information design model illustrated above, a thorough understanding of user needs is the foundation of the practice. As to how is the information design process different from graphic design and similar design disciplines, there are three core requirements in information design that stand out:
Information design has user-centered objectives. It puts the user first instead of aesthetics or the quality of its appearance
The information design process requires a wide range of skills
Ultimately, "It Depends" is the answer to most information design problems. Author Ronnie Lipton said it best in his book The Practical Guide to Information Design:
To simplify or not to simplify: well, it depends – on the audience, content, context, environment, materials, and other factors you'll learn about that affect perception and comprehension.

Instead of signing on to either camp for life, let those factors determine your designs in each project. It's often best to simplify as much as you can while fully serving the audience's needs. It's always best to avoid simplifying to the point of insulting the audience's intelligence.

Can it be an accident that "it depends" shares an acronym with "information design"? Probably not.
Good information design matters now more than ever
Information overload has never been as relevant today. Every day, we are bombarded with endless flows of data and information — pages of credit card bills, auto-refreshing social media feeds, airline tickets, emails, text messages. It is the information designer's responsibility to make sure that every person can effortlessly filter and quickly understand strings of texts, icons, figures, and charts.
Editor's Note: This post is part one in a two-part series. In part two of our information design series, you'll learn what it's like to be an information designer.