We've said it before and we'll say it again: librarians are modern-day heroes.
Librarians are not only stewards of our culture's collective knowledge, but they're also torchbearers of what's yet to come despite the always-evolving nature of education, culture, and humanity in general.
Last week, we stumbled upon one of these modern-day heroes who recently discovered Easelly, and recommended it to her peers and blog readers right away!
Say hello to Lisa Mitchell of Fluxing Well!
Lisa perfectly illustrates the modern-day librarian's versatility regardless of the constant flux of our daily lives.
Why Fluxing Well?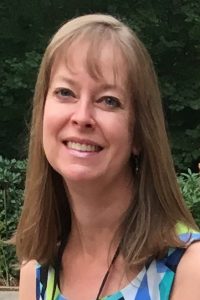 Lisa is a school librarian with an insatiable thirst for knowledge. She describes her job as an excuse to stay up far too late reading books and experimenting with tech tools like Easelly.
Over the years, she learned that life is in a constant state of flux, or change.

"I began blogging because my husband and I are new empty-nesters and I have always wanted to write. I've been thinking about starting a blog for a long time and finally dove in."
In her blog Fluxing Well, she shares her ideas and insights on how to flux well in every day, unusual, or unexpected situations. Apart from being a two-time Sunshine Blogger Award nominee, Lisa has also been designated a Top Reviewer by NetGalley, a book preview site for book reviewers.
"I would like to encourage others and be a bright spot in someone's day," Lisa writes when asked about her main blogging goal.
Why Easelly Became a Quick Addition to Her Blogging Toolkit
"I am a big fan of Canva, and I've tried to create infographics there. It took me forever. When I used Easelly, I was able to display my information much more quickly and easily (Get it, Easelly?)."
Lisa explains that it was Easelly's embed feature that drove her to add the free infographic maker tool to her blogging toolkit.

"I really appreciate the option to embed the infographic into a blog post, rather than just the option to import a jpg image. The option to download as a jpg image or pdf file is available. Sometimes, though, as in the image above, which is a jpg screenshot, the image is not very crisp. Although the image embed code default is a large-sized image, the width and height can be reduced in Easelly itself before copying, or the code may be changed after embedding in the blog post.. In my opinion, the image is sharper than a jpg image would be."
Lisa further writes that the versatility of Easelly's free option was the icing on the cake.
"When using Easelly, you may upload your own images, like uploading pictures of book covers. The templates available in the free version vary widely and are bursting with color. I was very impressed by the versatility this free option offers for blog posts, Pinterest graphics, and for presentations. It was fun and easy to use right from the start."
Want to try Easelly for yourself?
Whether you're a librarian-turned-blogger like Lisa or overseeing digital content for marketing, the ease of use and simplicity of Easelly's free infographic maker make it worth checking out.
***
You can read more about Lisa's Fluxing Well insights, blogging advice and tech tool tips on her blog. We want to thank her too for allowing us to share her story. We really appreciate it, Lisa!
If you'd like to give Easelly a test drive, here you go.
Finally, if you have an Easelly story to share, we're all eyes and ears. Comment below or send us an email at support@easel.ly. We look forward to hearing your story!