Are you looking for free infographic templates that you can edit and download for your next powerpoint presentation, school project, or business meeting?
You've come to the right place!
First off, hats off to you in choosing infographics and data visualization to present your story, idea, or project. Gaining the attention of your readers won't be as tricky because humans (that's us!) are visual learners.
Next, pre-made infographic templates are a great alternative if you're trying to beat a deadline and would love to have an infographic done in a jiffy.
If you're pressed for time, our infographic design service team can also design custom infographics for you in 24-48 hours.
Easy-to-use infographic templates you can edit and download
If you prefer to do it your way, take a look at the free infographic templates below that you can quickly edit and download.
Before you tweak the template of your choice, watch the short tutorial video below on how to customize infographic templates in Easelly. Happy creating!
Science infographic template
This atom infographic will surely impress an audience who are into physics! It's also an excellent way for you to introduce the nature of atoms in class.
Performance review infographic template
Here's a great example of how you can use pie charts, graphs, and charts to highlight the most important points in your report.
Business infographic template
The bright colors and white background of this infographic template will help convey your message clearly during a presentation, just like this gender diversity in tech advocacy.
Recipe infographic template
Do you like cooking and experimenting with new recipes? Use this recipe infographic template the next time you're sharing a new recipe in your blog or Instagram!
Infographic resume template
No matter what your infographic resume looks like in the end, there are a few basic things to keep in mind while making one. These include a bit about yourself (make sure it's relevant to the job you're applying for), work experience, and your contact details. Finally, make sure your chosen font is easily readable and that there aren't any mistakes in your writing.
Checklist infographic template
Do you own a fitness gym? You can't go wrong with this checklist infographic template. If you'd like to use it for another niche or industry, you can keep the original infographic structure but feel free to change the icons, images, and texts!
Fitness infographic template
Do you need to convince a friend, family member, or a group of people on the benefits of exercise? This fitness infographic template is perfect for the job!
Marketing infographic template
Infographics in marketing are versatile — from promoting a new product or summarizing key points in a blog post. Use the template below to wow your audience, increase engagement, and eventually boost your lead generation efforts.
If you're a marketer, check out this guide to using infographics to generate qualified leads for your business.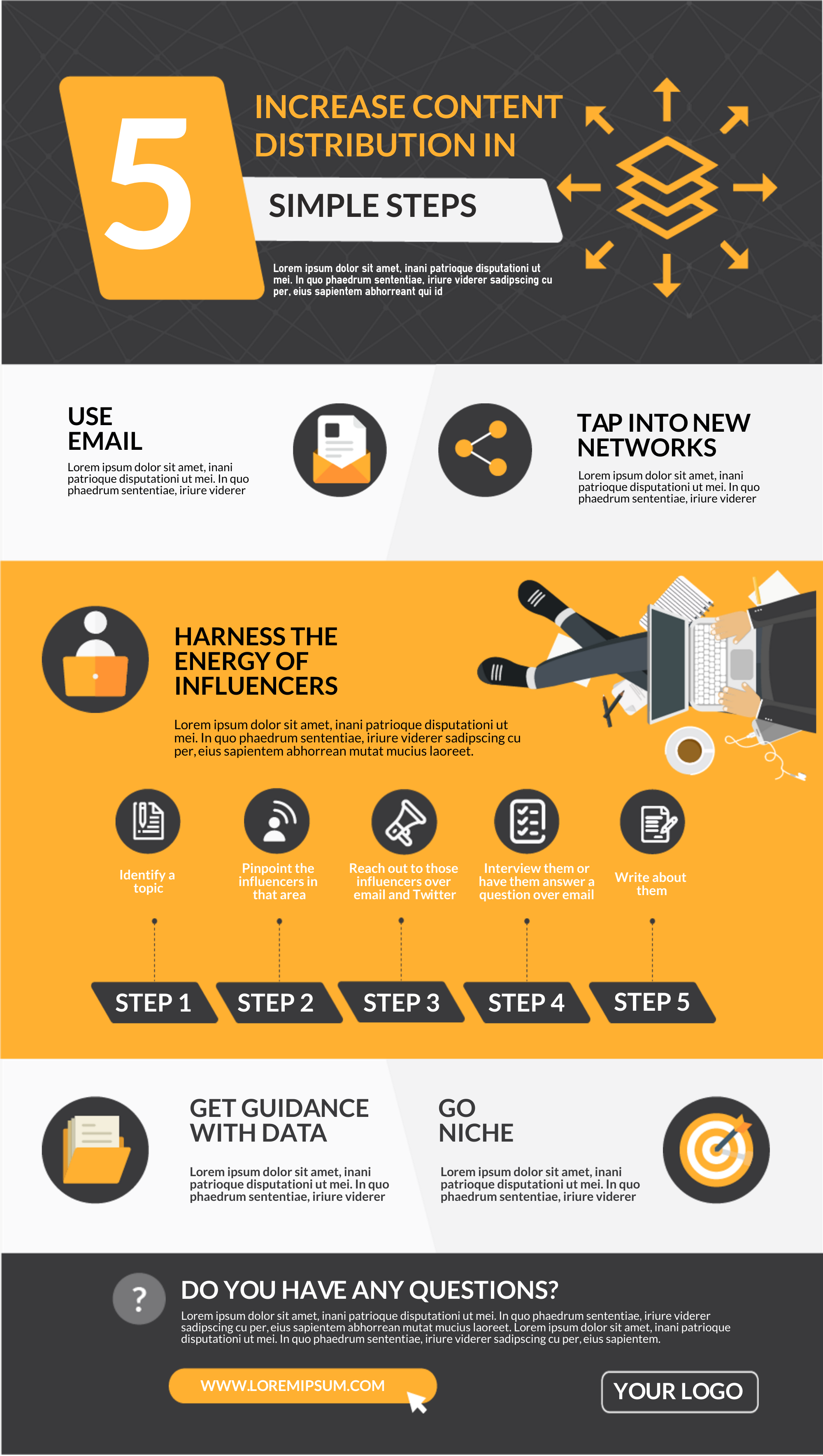 Technology infographic template
Thanks to advancing technology such as infographic maker tools like Easelly, editing this technology infographic template is quick and easy (see what we did there?).
Comparison infographic template
Do you want to highlight the differences between two ideas, objects, or perhaps favorite TV shows? Tweak this comparison infographic and you'll be done in minutes!
Do infographic templates stifle creativity?
A few people are quick to say that templates stifle creativity. But does it really?
At Easelly, we believe that limitations such as pre-made infographic templates can help boost creativity. Creating something new despite the lack of time and resources is a creative act in itself. However, if you prefer to start with a clean slate (or easel!), you can definitely do that with our infographic maker tool.
*Editor's Note: This blog post was updated on April 25, 2019 for accuracy and comprehensiveness. It was originally published on April 30, 2014.