2020 has been a year of ups and downs, but it seems like there might be a lot more down than up when it comes to disasters.
Natural disasters are expected, but between climate change and the increasing interconnectedness of global society, it seems like we're getting less and less of a break between them.
Whether you're looking at the weather or natural disasters on the ground, 2020 has been a busy year.
From the wildfires that ravaged Australia at the beginning of the year to the record-breaking hurricane season in the Atlantic, let's look back on the natural disasters of 2020 that inflicted the most damage.
Environmental disasters and the toll they take
The United States alone can count a total of 16 declared natural disasters this year, each one coming with a price tag of at least 1 billion dollars in damage to local communities.
Every disaster is different, but one thing they all have in common is that they take an incredible toll on local families and economies.
The derecho in Iowa earlier this year, for instance, a rare kind of thunderstorm that tore through several US states (though it caused the most damage in Iowa), is estimated to have caused 7.5 billion dollars in damages.
One thing to remember with any disaster is that it's not just what happened; it's where it hit. The gulf coast might be prepared for the kinds of winds Iowa saw on August 10th, 2020, but the inland state certainly wasn't built to handle it.
Wildfires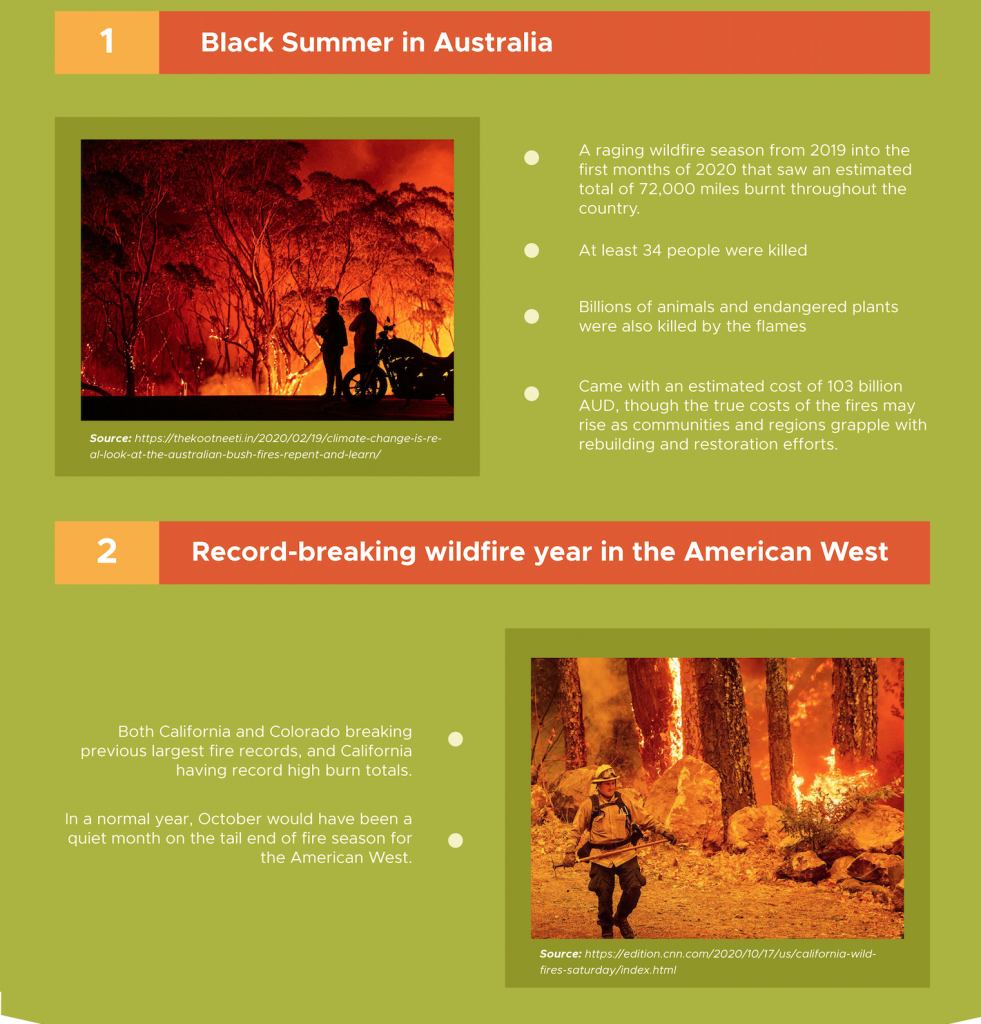 2020 opened with what has been named the 'Black Summer' in Australia, a raging wildfire season from 2019 into the first months of 2020 that saw an estimated total of 72,000 miles burnt throughout the country.
While the fires were burning, at least 34 people were killed. Billions of animals and endangered plants were also destroyed by the flames. Unfortunately, some endangered animals that called the burned areas home may likely have been driven into extinction.
Economically, the fires came with an estimated 103 billion AUD cost, though the fires' actual costs may rise as communities and regions grapple with rebuilding and restoration efforts.
2020 also saw a record-breaking wildfire year in the American West, with California and Colorado breaking previous largest fire records, and with the former having record high burn totals. California had seen 4 million acres (about 6,200 square miles) by October 28th.
In a typical year, October would have been a quiet month on the tail end of fire season for the American West. This year there were still 47 fires burning on November 10th, 17 of which were considered massive and uncontrolled fires.
Weather and thunderstorms
Wildfire is far from the only issue that plagued 2020's natural disaster year.
Hurricane Delta, which lasted from October 5th through the 10th, might not have been a remarkable hurricane on its own. But it caused 2.5 billion dollars in damage when it made landfall, making it the 17th natural weather disaster to cause more than 1 billion dollars in damage in the United States in 2020.
The previous record was 16 billion dollar+ disasters in a single year.
The Gulf hurricane season is notable for another reason this year. Notice that we were talking about Hurricane Delta above?
It's because the National Weather Service ran out of letters in the alphabet to name tropical storms and hurricanes this year. After W (the last letter the Weather Services uses for naming storms since there aren't very many Q, U, X, Y, or Z names), tropical storms Alpha and Beta were quickly discovered.
This year is just the second time ever that scientists were forced to switch to the Greek alphabet, a good indication of how abnormally active this year's storm season has been.
Of course, there was also the derecho storm that blew through the Midwest on August 10th.
It's a rare kind of thunderstorm characterized by straight-line winds blowing at hurricane-like speeds, it shouldn't be surprising if you've never heard of a derecho storm before. They're considered once in a lifetime storms, and this one was particularly bad in terms of severity and damages.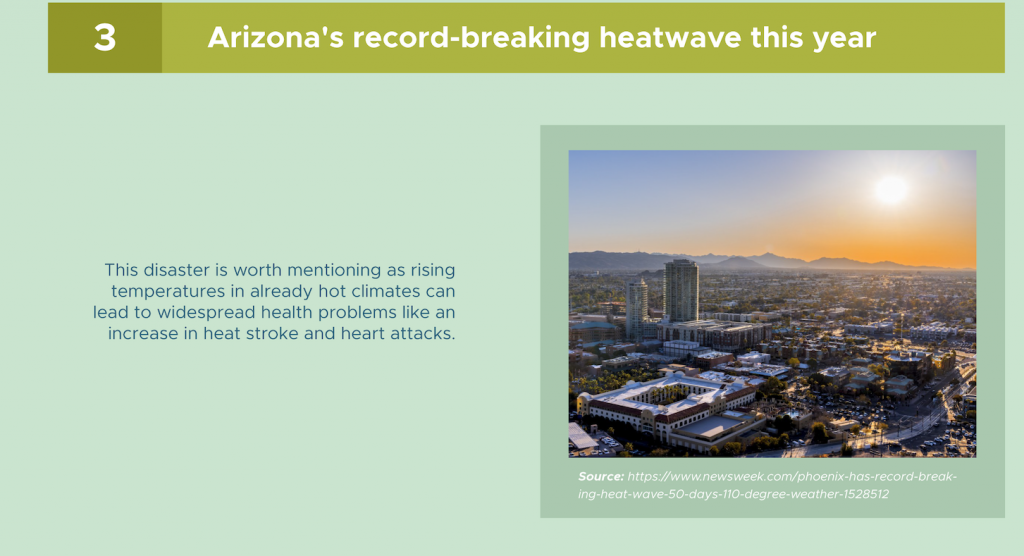 Arizona's record-breaking heatwave this year, with maximum temperatures in the state averaging just over 107 for the summer, might not have been a natural disaster on its own. But it's worth mentioning since rising temperatures in already hot climates can lead to widespread health problems like an increase in heatstroke and heart attacks.
That's not to mention the additional burden on utility systems when the heat starts to climb, posing an increasing threat to communities facing higher average temperatures and much higher maximums.
As we learn to fight rising heat, we also have a responsibility to manage our own carbon footprints more carefully for future generations, to prevent more record-breaking summers.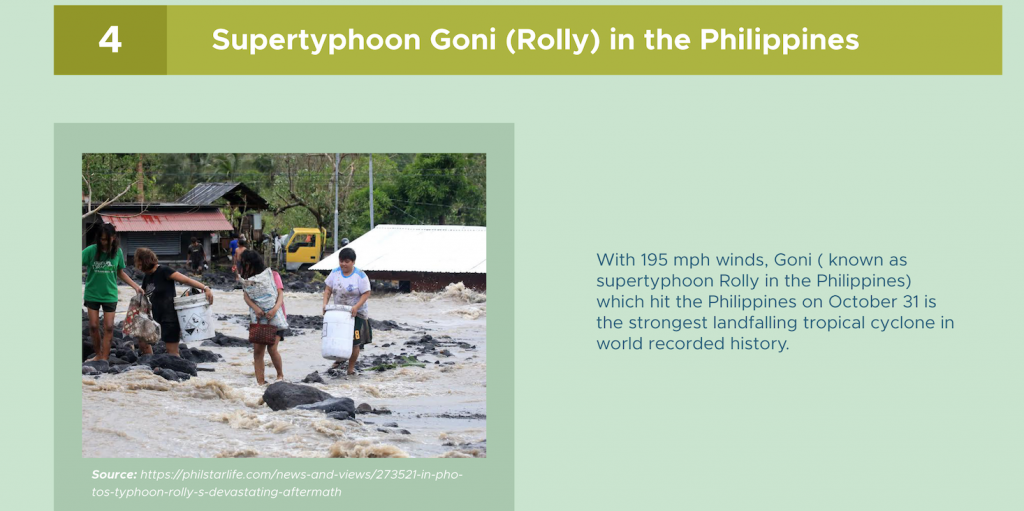 Finally, there's supertyphoon Goni (Rolly) in the Philippines.
With 195 mph winds, Goni ( known as supertyphoon Rolly in the Philippines) which hit the Philippines on October 31 is the strongest landfalling tropical cyclone in world recorded history.
Volcanic eruptions
The eruption of Taal volcano in Batangas, Philippines (near the Capital Manila) on January 12, 2020, 4 decades after its eruption in 1977.
Heavy ash blanketed nearby houses as the volcano spewed lava into the sky. Farms were covered in ashes and many flight passengers were stranded as officials temporarily shut down the country's main airport.
The Novel Coronavirus
Scientists are still torn on whether the novel coronavirus is a natural disaster or not. Spillover events and global pandemics are driven by natural causes, like viral mutation and inter-species interaction and exposure. Yet, they aren't significant one-time events like your average natural disaster.
Whether we ultimately decide that COVID-19 is a natural disaster or not, one thing's clear.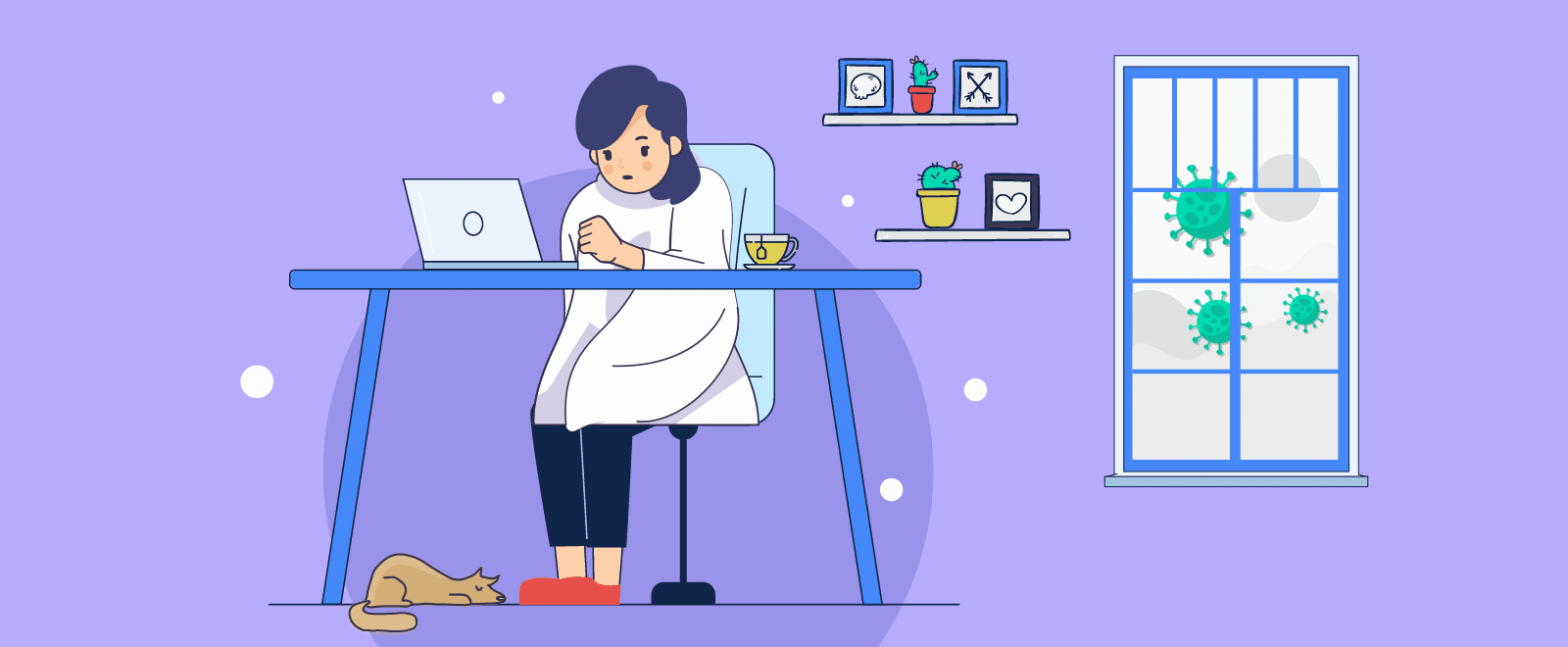 COVID-19 dramatically changed the natural disaster response system, complicating response teams' jobs on almost every natural disaster since Spring this year. In Colorado, firefighters fought the Cameron Peak Fire, the state's largest fire in history, while quarantined due to possible exposure.
Many of those firefighters got sick anyway, despite the best possible precautions to keep them safe.
As communities hit by hurricanes, tornadoes, and derecho mounted rescue and rebuilding efforts PPE was an issue of concern. Would there be enough masks for rescue workers and volunteers? What about the repairmen who descended on disaster-struck communities to clear debris, repair electrical lines, and restore a sense of normalcy?
When people were struggling to breathe across the American West because of smoke pollution lowering air quality, many wondered if they would be able to get treatment in overburdened doctors' offices and hospitals. Others wondered if the smoke might make COVID symptoms more dangerous.
Other pressing concerns during the coronavirus include the challenges of being productive during a pandemic and the mental health burden that comes with it.
Recommended Reading — 20 Coronavirus Infographics: Reusable Templates and Resources
Resilience in the face of disaster
2020 was a tough and record-breaking year in many ways.
With so many different disasters occurring in different parts of the world, often simultaneously, it would be hard not to feel the stress even in an otherwise normal year.
But the global pandemic and international efforts to combat it had added a layer of stress to everyone's experience of the year, whether they were personally affected by the many natural disasters or not.
There is one good thing to remember though, the communities most closely affected by these many disasters have, by and large, pulled through. Even where rebuilding is still in progress, it's happening.
People and communities are pulling together and weathering the storm. Disaster response teams are innovating new ways to respond to crises in a world defined by COVID risk.
The world has faced unprecedented challenges this year. It's also risen to those challenges.
Ready to make your own environment infographic? Get started with environment infographic templates!