Most people around the world are now familiar with the shopping phenomenon that is Black Friday.
Many of us, in the United States especially, wake up bright and early (or don't sleep) to attend sales that start at 6, 5, even 4am on the Friday after Thanksgiving.
But do you really know what Black Friday is all about, or the impact it has on the retail world?

History of Black Friday
In 1966, the name "Black Friday" was created in Philadelphia, thanks to massive traffic jams and the large number of accidents associated with travelers and shopping after the Thanksgiving holiday.
It wasn't until the mid 1980's that retailers started taking the name "back." This is when Black Friday shopping turned from something disastrous into something desirable.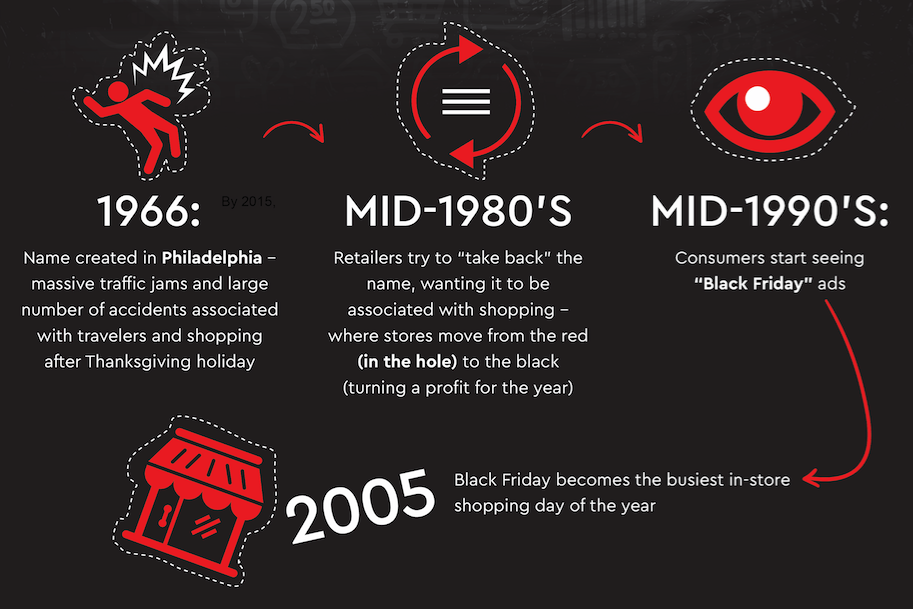 Black Friday Around the World
It's no longer just an American shopping holiday. In 2010, the first Black Friday sales were held in the UK, and in 2011, Mexico started their own Black Friday – called "El Buen Fin" (The Good Weekend).
In 2014, even South Africa started creating Black Friday sales. Not surprisingly, Canadians are catching Black Friday fever, too: 5.1 million Canadians cross the border on Black Friday to take advantage of US sales!
Below is a map of the all the places around the world that now "celebrate" Black Friday.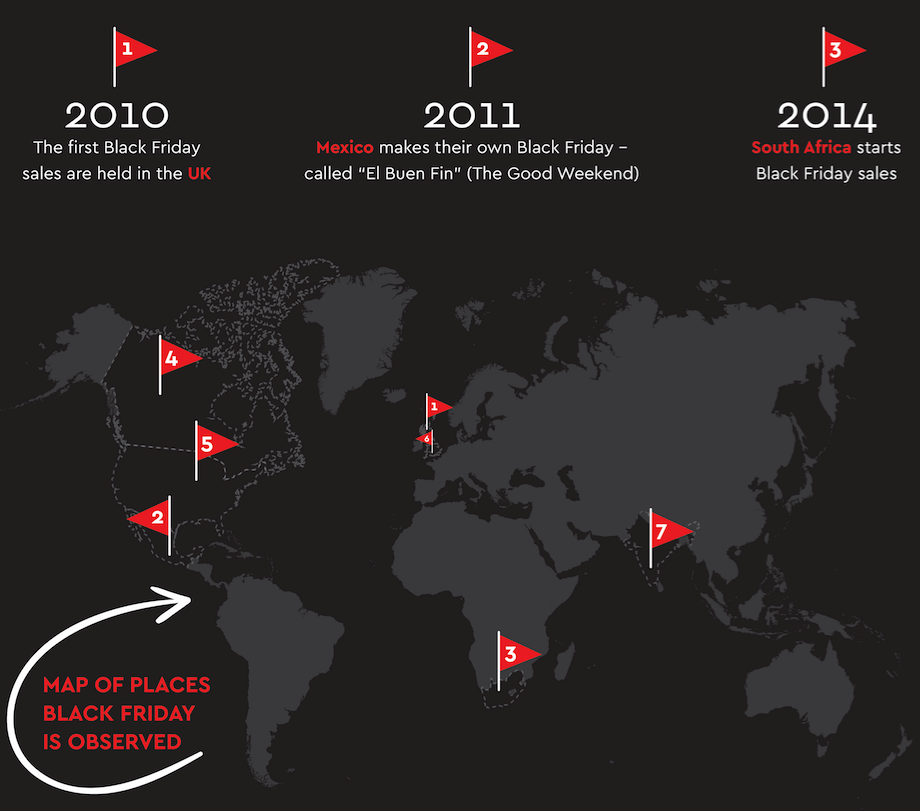 What do people do on Black Friday?
The number one category for Black Friday purchases is electronics. 33% of consumers say they are going to shop for electronics like (in order by popularity below):
TVs

Tablets

Laptops

iPhone / iPad
Guns also sell like hotcakes on Black Friday, with 185,00 gun registrations occurring on this one day- more than any other day!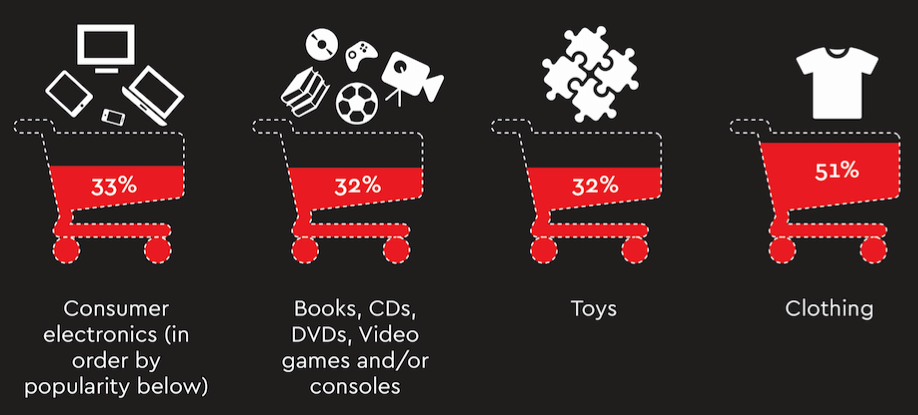 The future of Black Friday
Black Friday is turning into a weekend-long event in the US. More people are starting to shop on the evening of Thanksgiving, rather than wake up for Black Friday early morning sales. In 2015, retail store sales fell almost 10% from 2014 with a 14% increase in online sales in that same timeframe.
It seems like people are trying to avoid the mobs and instead buy from the comfort of their own couch in their post-turkey coma.
Black Friday fun facts infographic
We've pulled together the Black Friday illustrations above and made them into one cohesive infographic.
You can repurpose and edit it using our simple infographic maker tool. Get in touch with our support team to ask about using the infographic as a template. Email them at support@easel.ly
Another good alternative is to work with our professional infographic designers.

What about you? Are you braving the crowds, the parking lots, and the cold to find some great deals in stores this Black Friday?
From all of us at Easelly, we wish you a Happy Thanksgiving and a Black Friday full of great deals!
If you're creating infographics and visual marketing materials for Black Friday, head on over to our collection of infographic templates and get started with your own infographic.
Editor's note: This blog post was updated on November 26, 2019 for accuracy and comprehensiveness.