Job-hunting is a demanding activity and you'll need just the right tools to get that position you've set your eyes on. Of course, this means that the employer's eyes will have to catch sight of you first. Amaze them with a creative and appealing resume with the help of Easelly!
Whip it up in no time
When you're putting together a CV, basic ingredients are pretty much always the same: some personal information, a timeline of your education, your skills, your work experience, qualifications, your interests and achievements, a set of skills and hobbies, your references and the most decent photo you can find. However, just cramming them into a black-inked bulleted list with some headers and line breakers won't cut it these days.
A pleasing arrangement is a must, and this is where we at Easelly can step in to help.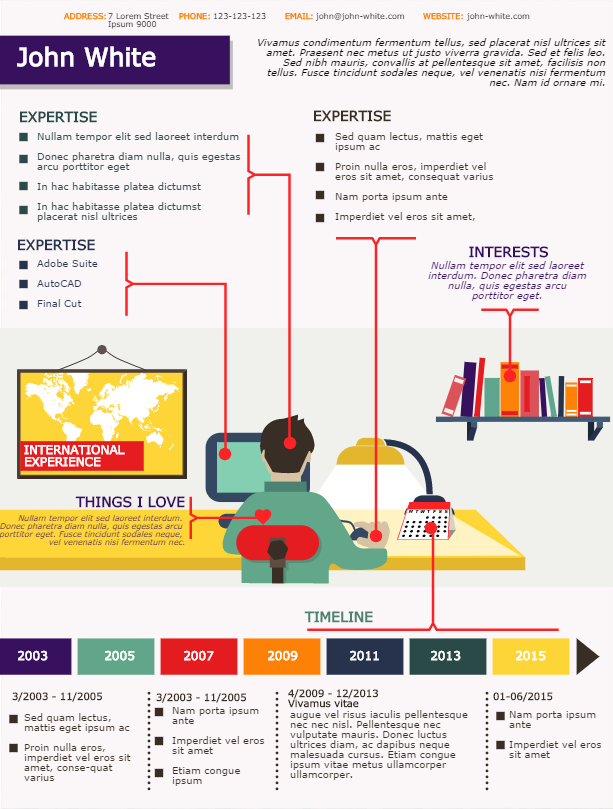 Use our infographic maker tool and start exploring the world of possibilities. There's no way to mess up – follow the friendly arrows and pick the background image and visual theme that are just right for you! Once you've found your dream template, the rest is Easy Street. The clear and intuitive Easelly Designer will readily guide you through making the best resume ever.
Spicy and sweet
With all the competition out there, you'll want your CV to stand out at first sight. Never let it get lost in the swarm of other gray applications!
Make it jump out and have it send a clear statement: "I'm the one you want for this job!". Attractive, dynamic, creative, unique: this sort of effect is easy to reach if you just keep some tricks in mind.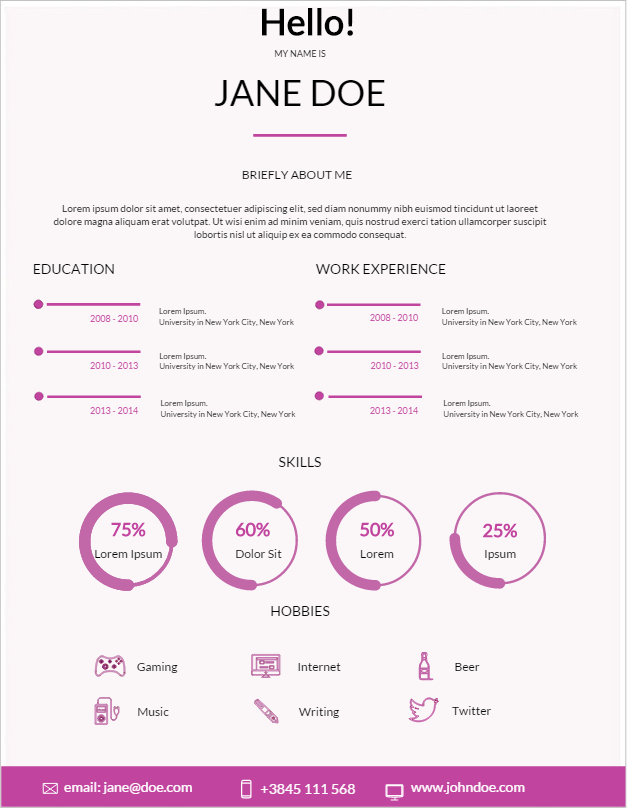 We at Easelly want to help you land that dream job you're applying for, so here are some resume design tips to help you make the best of your creative juices:
Format the information.
Plain old lists are totally out. Instead, consider framing each section in a different colored box, using charts to represent timelines or illustrating your interest with icons or diagrams.
You don't need to confine yourself to the rectangle of the paper. Circles, pyramids, and ellipses can be a wonderful way to direct the attention of whoever holds your resume in their hands.
Play around with different layouts and see what works best for you and the statement you want to make. Don't be afraid to experiment – it's still just a template, after all.
Make sure you're concise.
Long-winded writing will most likely put off anyone who'll be sorting through applications. Especially be careful not to repeat yourself. Employers won't want to flip through pages of clutter with looping information.
Mind your colors!
The typical white background, dull grays and pretty much any of the lifeless shades you'll easily find on camouflage pants come across as very uninviting to look at.
Just like a performer will pick the best background music for their act, choose a color scheme that looks alive, dynamic and doesn't hurt the eyes. Calmer colors like green, blue, brown or purple would make a good background (especially if you opt for softer, darker shades), while the warmer and more lively ones can be used for graphs and highlighting information. Point out your achievements in a vibrant orange and have your best numbers stand out in a ravishing red. Just like with formatting, play around and see how the colors go with each other. Find your own unique style and have your resume reflect it.
Fonts are major players here.
Choose the one you'll write your CV in very carefully. Take your time to browse through what your text editor has to offer.
Make sure the letters are neat and clear, especially the capitals. Plenty of the fancier fonts can turn out quite indiscernible if you're not careful. Also, watch how the bolds and italics will behave – sometimes they can pretty much suffocate the spaces between words and make your text look like one big bulk of a failed calligraphic mess.
Check and re-check your spelling and grammar.
Having these done poorly is the quickest way to get rejected. If your resume is sloppy or filled with obvious errors, potential employers will be totally unimpressed. Before you file it in, have your friends read through with impartial eyes and help you with any proofreading.
Use this guide and everything Easelly has to offer and demonstrate with creativity that you have all the necessary (and some complementary) skills to get that job you're aiming for. Start creating your infographic resume now.