Cy Hossain, founder and CEO of Crowdcast, recently spoke with us about the impact that live events can have on virtually any business, product, or message. Whether you own a small business, are an entrepreneur, or you're trying to promote your nonprofit, live events with a platform like Crowdcast can boost you to whole new heights. Watch the chat and catch our take aways below!
But why is that? What makes live video so critical in today's content-laden market? Cy explained: "Being real with your audience builds relationships that you can't do with other methods," and we couldn't agree more. Thanks to the live events that Crowdcast allows users to host, audiences are getting a front row seat to businesses' products, people, and messages more than ever.
Of course, there are a number of ways to use Crowdcast's platform to engage your audience. While some businesses and entrepreneurs hold live Q&A sessions, others use the screen-sharing option to provide live demonstrations. In general, though, users aim to provide personal and usable value to their attendees.
Because infographics are another visual element that many content marketers, business owners, and entrepreneurs use, we at Easel.ly believe the duo matches up quite well. Whether you host a "webinar" or a live demo or you want to simply chat with your clients, using infographics in live events on Crowdcast can be incredibly powerful.
How to incorporate infographics to your events
Have you ever thrown a live event and wondered how much of it your audience would actually remember? Or have you worried that sharing statistics or information would bore your attendees to sleep? There are a few reasons why video and visuals work so well.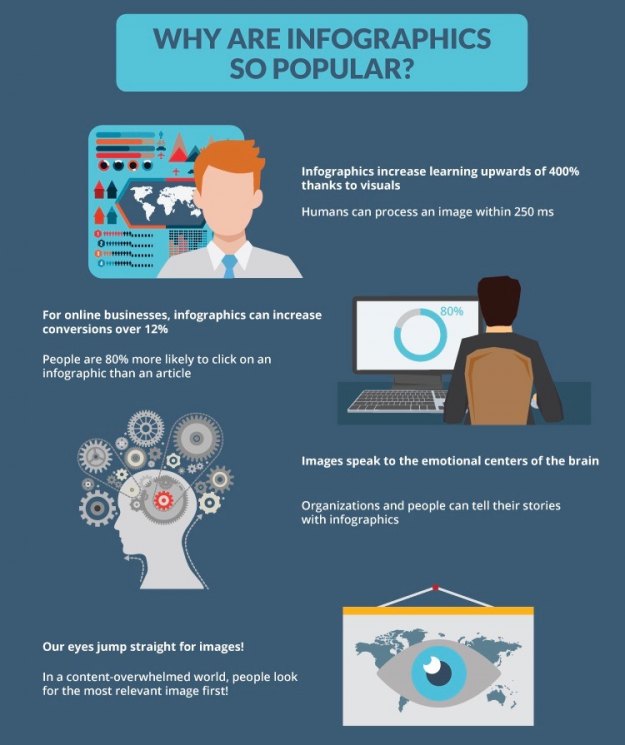 Visuals are processed within 250 ms – really!

Unfortunately, auditory processing can take much longer. In fact,

65% of people are visual learners

but only 30% are auditory learners. Why not cater to the auditory and visual aspect of live events by combining infographics and live events?

Visuals are persuasive.

Customers are

17% more likely

to be persuaded by visuals than by written blogs or emails. Imagine that number increasing with face-to-face interaction and

establishing yourself as an authority

via live video.

Visuals attract attention.

You have less than 8 seconds to grab someone's attention today. That's a lot of pressure. Because the human brain can process visuals in less than a full second,

your visuals need to be engaging

so people stick around!
With all that, it's easy to see what a powerhouse visuals and video can be. Cy, as a firm advocate of the face-to-face connection, gave us a few unique ways to incorporate visuals (like infographics) into your Crowdcast event without distracting from the personal nature that makes them such big hits.
Here are a four ways you can use infographics on your broadcast without simply reading off a slideshow the whole time:
1. In your post-event notes:
Incorporate statistics, trends, or

other data points

into an infographic

Provide the link or the full image in your notes, blog post, email, etc.
2. On the cover image of your event page:
When you create a Crowdcast event, you can upload an image to be featured at the top.

Select your infographic (or a section of it) to provide a taster to attendees
3. In a custom tab:
When you create an event, you can click to the "Advanced" options to add a custom tab with your infographic"

Select Images and then upload your infographic. This way it will be front and center on your event page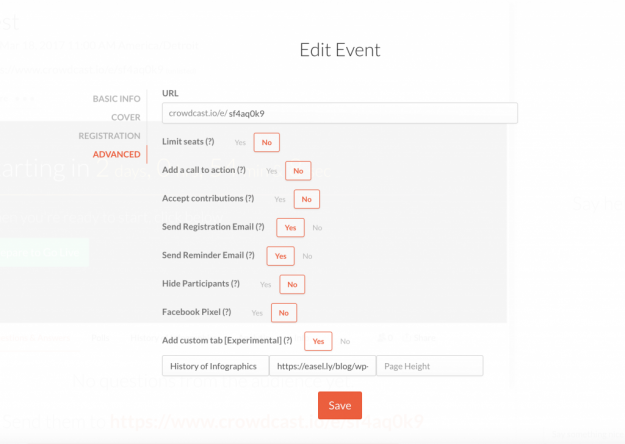 4. As a "freebie" promotion for the event:
When you share your event via email, social media, or other avenues, you can offer more incentives (other than a free live event, of course)

Your infographics can be used as incentive, as they are shareable content that audiences love to share
Because visuals (like infographics) often tell a unique story about your information, they can be a great way to gain traction for your event. People love knowing they're going to be getting real returns on their time investment when they attend your event, so create content associated with your event that they can take with them!
Face Time is Important
One distinction that Cy made about Crowdcast is that many users (and viewers) prefer face-to-face "chats" for a variety of subjects. While many people used these events in the past as a way to share information via screen sharing, he would like people to realize the value in providing "information as well as interaction." That's a really great point, one that many nonprofits, entrepreneurs, and small business owners can implement in their Crowdcast events. Educate your audience, yes, but also engage with them!
There is also a lot to be said about live video as a business trend in general. Nearly 85% of all Internet bandwidth is used for video in the U.S. and that's only expected to rise. Video is a huge portion of our online lives, and it's becoming a critical element for businesses and nonprofits alike. If you want to grow your business, you'll need to embrace this new visual frontier!
To set up an account with Crowdcast, create your account here!
To learn more about creating infographics you can use for your live events, check out our Step-by-Step Guide to Making Infographics from Scratch.