In today's competitive employment world, it can be hard to find a job you love and that you're qualified for.
It seems like employers are expecting more out of their applicants, which means you REALLY have to stand out from the crowd.
Maybe you've gone to school, you've been certified in your field, or you have a few years experience under your belt. And now you're ready to start your job hunt – but you might be wondering:
"Is my resume enough to catch an employer's eye?"
Employers see dozens, and sometimes hundreds, of applications for a single job opening. That's a lot of boring, white paper – and sometimes, your resume gets lost in the crush.
Luckily for you, we know one little trick that can make sure your resume makes its way to the top of the pile: an infographic resume!
What is an infographic resume?
Resumes are usually documents with bulleted points that list your experience, education, and other skills. An infographic resume does all of that, but it does it with visuals.
An infographic resume may have a colorful background, icons, and different fonts, objects, and colors that make your information POP.
There are still all of the necessary components of a resume (like your contact information) but they are presented in a colorful and novel way.
Why you should use an infographic resume
Infographic resumes are great for any job. Even if you think that it won't impress your potential employer, odds are that it will get you noticed!
An infographic resume is colorful, more engaging that white paper, and can be used to highlight your creativity.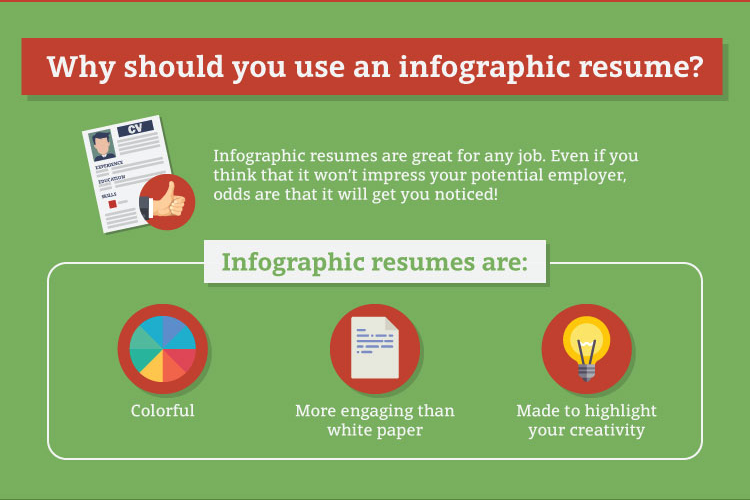 A potential employer will see your resume and be drawn to it!
But an infographic resume won't just get you SEEN. It will also show that you are creative, innovative, tech-savvy, and versatile.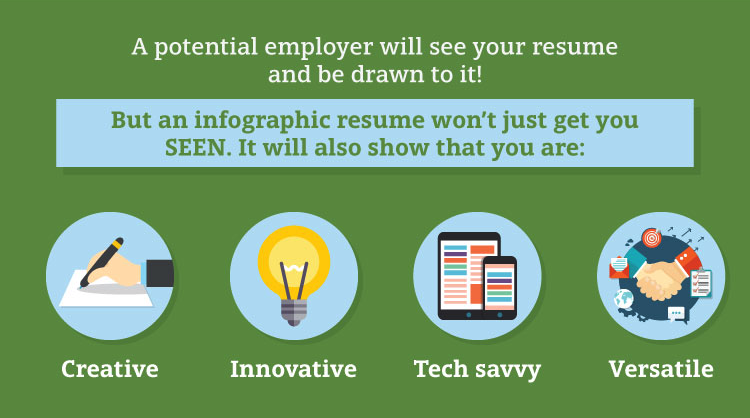 Employers want to know that you'll be an asset to the team, which is why an infographic resume is so great.
Not only can you make your way to the top of the interview pile, but you can leave a lasting impression.
Increase your hiring odds and highlight your unique skills. Use one of Easel.ly's infographic resume templates or create your own from scratch. You can also opt to have a professional infographic designer do it for you.
For more infographic resume tips, head on over to our infographic design channel on Youtube.