A visual resume is a perfect way to interactively give maximum info to your potential employer – and quickly!
Remember, whoever handles job applications will glance over your CV for an average of 7 seconds before they decide to take a better look or just stick it into the bin.
Grab your chance and make a brilliant first impression with some friendly tips from Easelly!
The Future of Formatting
While the plain old layers of lines and towers of text are definitely falling out of the picture, there are still some standards to maintain. Why change the stuff that works, right? So keep your photo, contact information etc in the upper corners and maybe play around a bit with their order, or frame them. As for the "body" of your resume – now that's where you can let your creativity soar! Here is an example: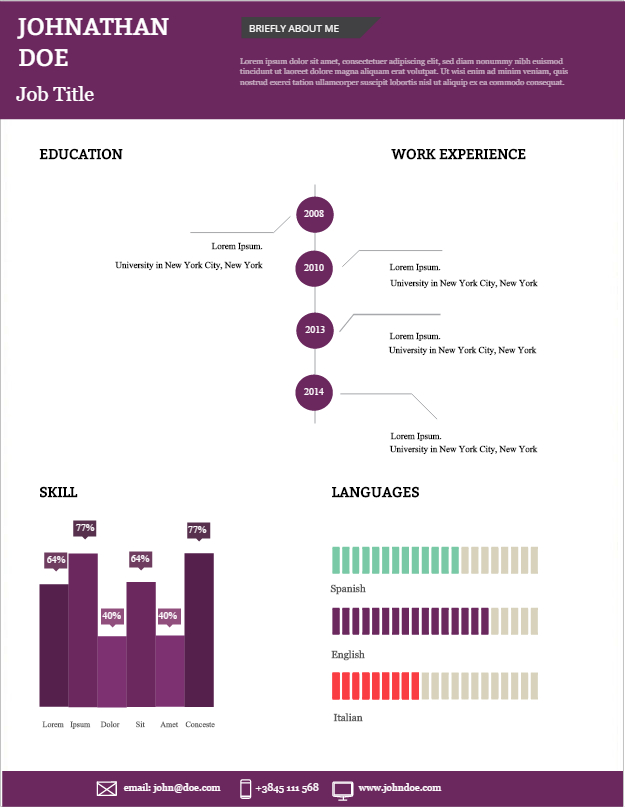 Following the common road, the name and contact are given straight off in a clean black font, and then wonderfully matched with a creative, appealing, but simple and elegant design. No lengthy lists, no boring bullet points, no crammed pages and no clutter.
You can make the same light, clear and concise impression in your own unique way, and here at Easelly, it's as easy as it gets. Just go to our online easel and let your creative juices flow. Follow the friendly arrows and start playing around with backgrounds, colors and effects. There's no way to make a mistake – you get your very own template and you can change it around however you like, and give it as many overhauls as you want to before you send it off.
See how different elements go together and throw them around your page. Up, down, all around! Switch it up, mix and match. What looks best right in the center and what fits into the corners? Check out various color combinations and what sorts of impressions they leave.
Share your design with friends and family. Have them look over various templates with impartial eyes and see what kind of an effect they have. Get them to play pretend with you and dance a little way in an employer's shoes.
Less is more: a concise composition
Job-hunting is a tough competition. To people who deal with applicants nothing is as repelling as the thought of flipping through a mountain of papers just to find that one resume of that one person they need for the work. The Easelly team cares about you winning, so here are some tricks for making it a short stairway to a sweet success!
A timeline of education, a collection of references and your skill set are an absolute must, but to make your CV stand out among a mass of others, you'll need to be careful about what you put in it. Even if you achieved a lot in various fields and gathered an impressive amount of experience, your potential employer will only want to see what they need.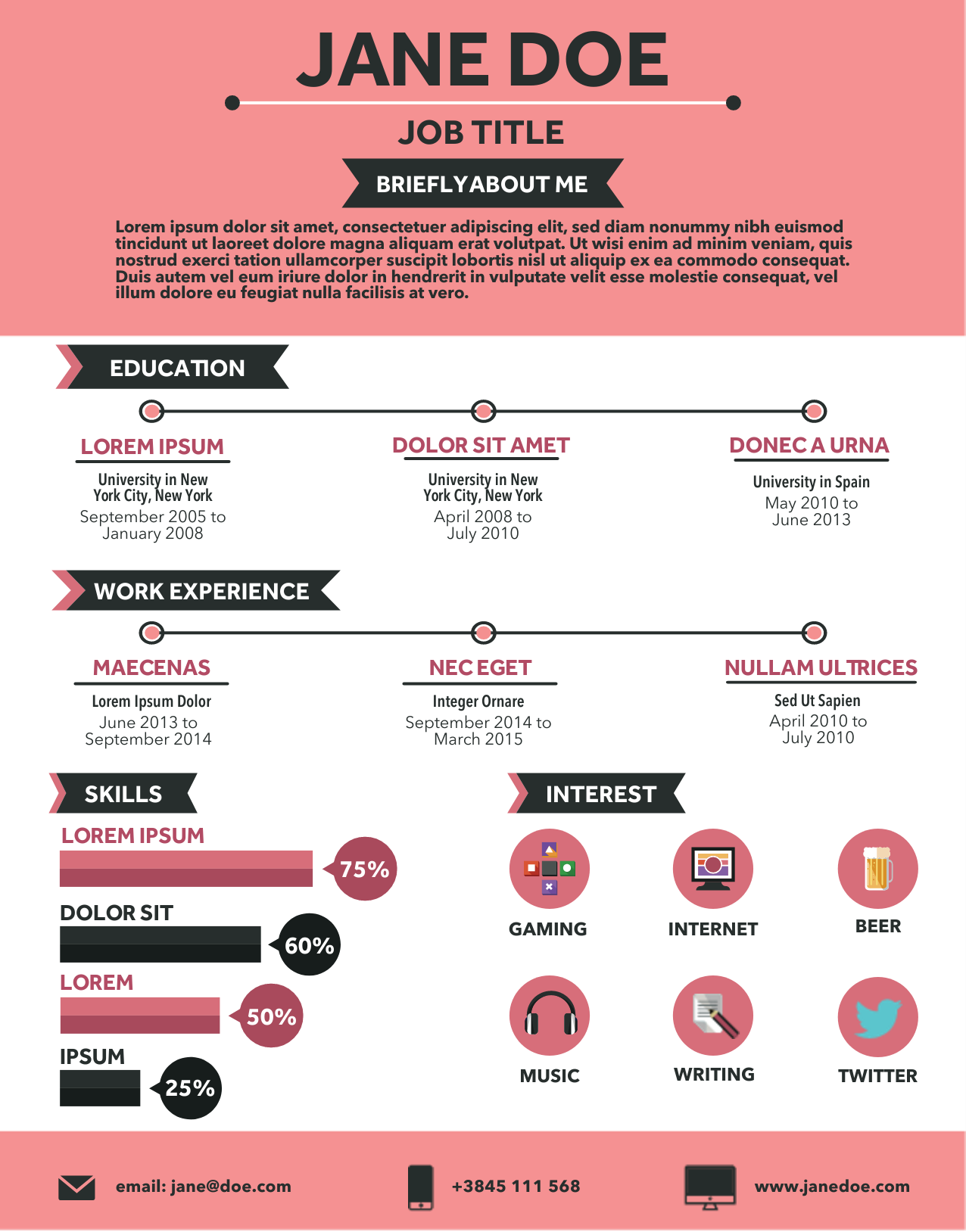 Here's a little secret we learned about determining this sort of stuff: read the employment advert you'll respond with your CV to a few more times. It's bound to include a few keywords that'll tell you exactly what they want in a new employee. Then just transfer those little light bulbs into your application – either onto the resume template or into your cover letter, if you'll be sending one along.
List only your achievements in relevant areas and name the hobbies that are directly related to the position you've set your sight on. Catch their attention by highlighting your best feats, place your best qualities in a pie chart or make a graph that'll show how quickly you've improved at something and how good you are at adapting to new circumstances.
Consider making your resume more like an infographic. A few chosen words next to a clear illustration or a boldface number will get you a long way ahead! This is something we at Easelly can help you do without biting a single fingernail.
You've got the skills they need for that job and pointing it out through the new, visual CV format is sure to send your application sky-high on the scale of uniqueness, all the way up to the interview – and maybe further!