We probably all know how a difficult can be to find a creative job that's well-paid. It's hard to get yourself out there when there's so many different demands when it comes to qualifications and job offers, isn't it? It can be demanding to find a fresh new form of resume, especially because there are no strict rules.
Well, we have an idea that you might want to consider – infographics! This is an innovative way to present any type of information in a very interesting way, not just resumes.
Why Go with Visualization?
The job market is quite competitive, so it would be good to have a special something that will help you stand out from the crowd. There are so many different things you can do with plain text, but if you add a couple of visuals there, you could make it highly engaging.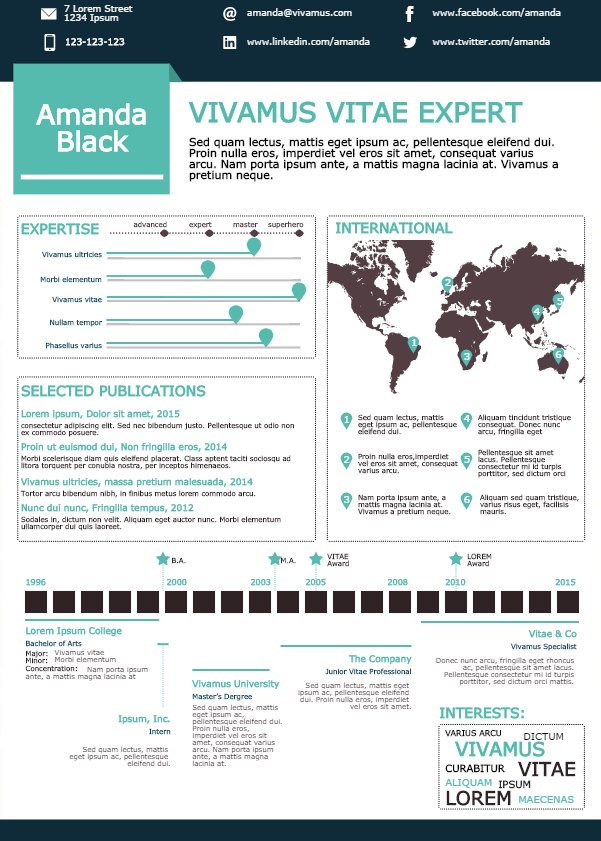 Visualization is quite a powerful tool – it's the fastest way to draw someone's attention, which is why it is used in marketing and for educational purposes. So, why shouldn't we use it to get a nice job?
Explore Your Options on Easelly
Once you figure out how your CV infographic should look like, you can find plenty of different Easelly templates , or you can design your own, give it a try. Hera are some tips for getting your CV awesome.
Create a harmony of colors
In which way do you want to present yourself? Try vivid shades that express your creativity or with dark serious tones that imply your professionalism. Try all options on Easelly, so you can be sure that you have chosen the right one in the end.
Find a balance between text and visuals
You can use infographics instead of a regular CV template is to express your personality, while at the same time showcasing your expertize. It allows you to accomplish both these goals in a more personal and definitely more interesting way.
Focus on results and accomplishments
''The intelligent man is one who has successfully fulfilled many accomplishments, and is yet willing to learn more.'' – Ed Parker
This is probably what everyone wants to find out about you. With our help, all you need to do is open your easel and paint your achievements, get them out in the open.
Tell your story
Are you a good storyteller? Let us help you visualise your story! Before you start forming sentences, you'll probably want to check out how others do it. Naturally, those observations should be your guidelines, but you shouldn't subject yourself to conventions completely. You're telling your own story and the final version should be a balance between personalization and professionalism.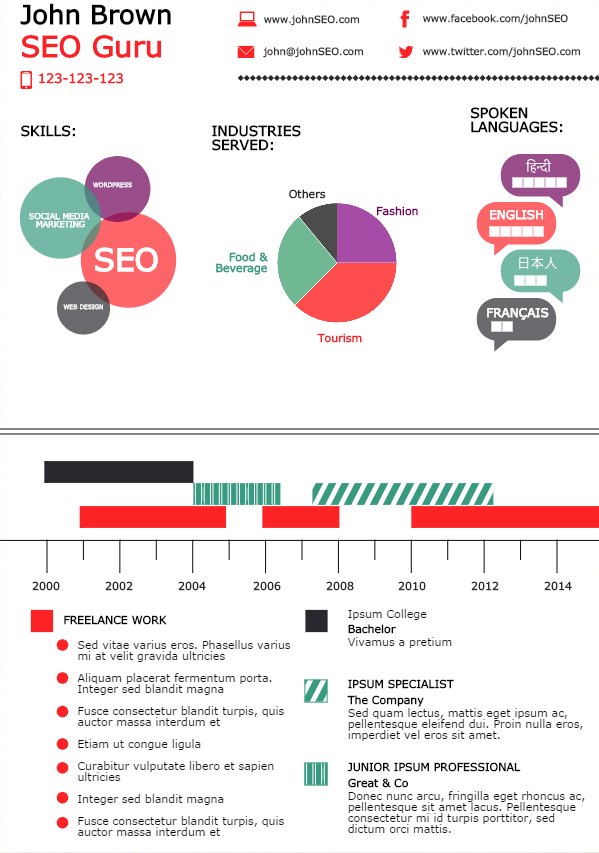 One last piece of advice – don't forget to share your brand new CV infographic online! That's a fun way to share your experience and potentially get a job offer, so why shouldn't you try it out? We hope these friendly tips helped you out and fingers crossed for catching that chance!