5 Types of Sign that your Business needs to employ :
If you've read our ultimate guide to all things signage then you probably have a good baseline knowledge of the art of sign making. Whilst the ultimate guide did go into a little detail on the different types of sign we thought the topic deserved more detail.
Signs are among the oldest forms of marketing and communication we have. In their most basic form they've been around since the dawn of humankind and their modern form can be traced back to ancient Rome and beyond! It is no surprise therefore that there are many different varieties and materials used in business sign making. It can be a real head spinner trying to work your way through all of the different kinds of sign. If you'd like to design your own sign, Easelly is here to guide you through it! Don't forget for a small monthly sum, you could pass all your design work right on to our team of professional designers!
In this article we'll take an in depth look at the different kinds of sign your business can use to get ahead, as well as some practical tips for each one
---
Roll Up Banners:
Roll up banners are a firm favourite with business owners all over the world. We guarantee you've seen them in use in retail, restaurants and function centres close to you and there's a good reason for this! Roller banners are cheap to make, ultra portable and can last for years if treated with care.
They can be used indoors and outdoors and are really easy to take on the road and store. Roller banners come in a variety of shapes and sizes but keep in mind these 4 design tips and you shouldn't have any problems mastering roller banners: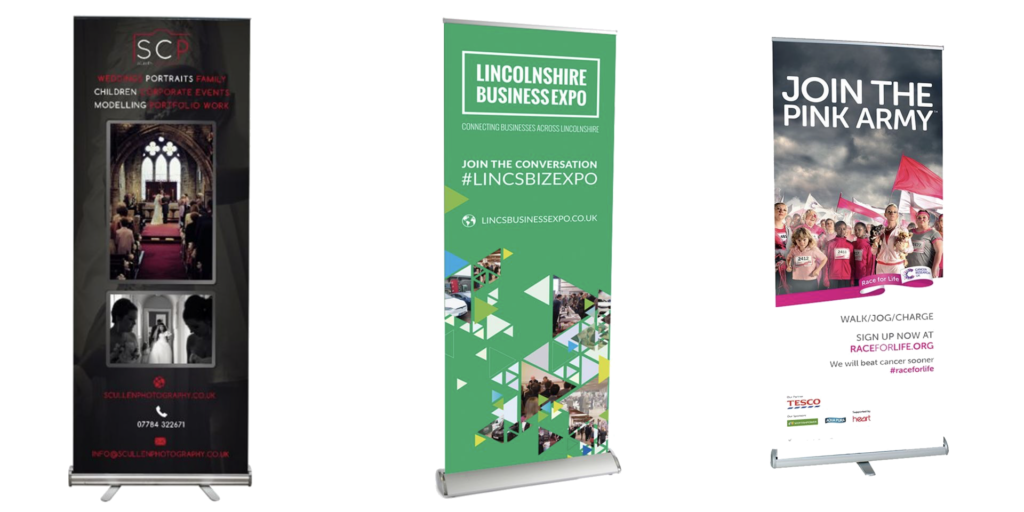 ---
Window Graphics
Window graphics are hugely popular with business owners. Once you've seen one for yourself it's pretty obvious why. Window graphics are stickers and decals you place on your store or business windows to inform and attract customers and clients. These are easy to make and can be changed out frequently. They're also highly effective and can spruce your business up for the holidays!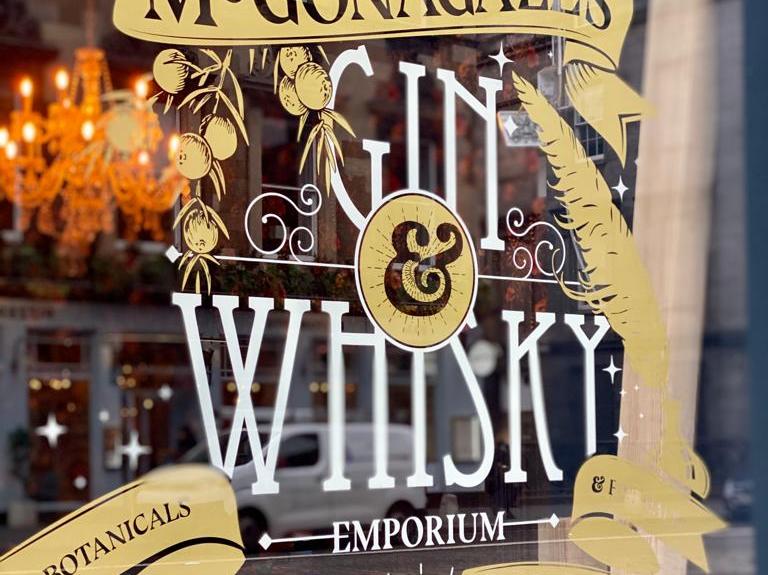 Here are a few quick tips if you'd like to implement window graphics into your marketing!
Be Careful With Image Choice: You want to avoid making your window graphic too busy. Clean, clear and simple works best with a window graphic. If you use massive, garish imagery it might attract your customers attention, but only for the wrong reasons.
Readability above all else: You need to prioritise readability above everything else. There's no point making a sign if your customers can't read it. Pick a font that is clear, legible and stands out from the window itself.
Choose the right kind of decal: There are loads of options when it comes to window decals. Carefully consider your needs and speak to your print shop or designer for advice if necessary. Depending on the location of the decal and how long you want it to last there are many options to consider for these types of sign
Wall Signs
Wall signs are probably the most common type of sign out there. They're popular because they work! You can get really creative with wall signs, there are multitudes of shapes and sizes that can be used all over your business. There are so many options with these types of sign and for many they are the first step into the wonderful world of signs. As well as being versatile they are also reasonably priced! Whatever it is you're looking to achieve with your sign, chances are it can be done with a wall sign!
Target your impulse buyers: Due to their portability and versatility, wall signs are perfect for targeting impulse buyers. A large percentage of retail sales can be attributed to impulse buyers and signs are a perfect way to exploit this! Position a wall sign near your till and hit them hard!
Save the details: You don't need to overwhelm your prospects with details and texts. Grab their attention with an eye-catching sign. Once they're drawn in it's up to you to give in the details during the sale!
Informational Signs
Informational signs are one of the few signage variants where you will want to go wild with information. If you run a large business these are a must for helping your visitors find their way around. Informational signs are generally used to direct people or for information purposes! If you have a really special product or item you would like your customer to read about, put an information sign beside it. If you want to direct your customers towards a specific part of your business, set up an informational sign to direct them.
Text!: With information signs you need to get the text absolutely spot on. That means no clutter and an attention grabbing font! Experiment until you get something that feels just right as this step is vital!
Colour and Graphics: You really want to downplay the colours here. Nothing too jazzy to distract the viewer from the text! Tread carefully!
A-Frame Sign
A-frames are another very common and traditional form of sign. These are a great option for sidewalks outside your business but work just as well in doors! You can get these types of sign made in a variety of materials and can have different messages or promotions on each side. A great option for announcements, special offers or for putting across opening hours.
Decide your location: Whilst these can work well just about anywhere it is important to consider the placement before design.
Brand name and logo: If you're going to be placing a sign outside your business it's really important to remember your branding. That way your sign will even stick with passerbys!
Be Creative: With a sidewalk a-frame sign you only have a few seconds to grab your prospects' attention. Use colours and humour to grab the attention of your prospective customer! Experiment and have fun with it.
Concluding the Types of Sign
There you have it. A basic primer on the standard types of sign you are likely to come across. But what if you need more detail? Want to know the history of signs? A design guide for almost any sign? A primer on sign materials? Then check out our aptly named Ultimate Guide to signs! If you have a question about signs, the answer will be there.