If you're new to infographics, or have only used them a few times, you may be wondering what exactly you can do with them once you create them. Creating an infographic is half the battle (as you now know), and you want everyone to see your awesome work, right? Using Easel.ly's infographic templates is easy, but what you decide to do with your images once you've created them is entirely up to you. Nevertheless, here are a few recommendations to make sure you get the most bang for your creative buck.
Share, Share, Share
With Easel.ly, you can download your image straight to your desktop or phone/tablet's camera roll, and share it across your social media from there. You can also save the infographic to Easel.ly's "Public Visuals," and let fellow Easel.ly users see the awesome stuff you've created (and maybe even use it themselves). Use the JPEGs, PNGs, or PDF files in promotional materials, for a page in your book, for a classroom lecture, or for a boardroom presentation slide. You can also use these infographics on your personal or business websites, on your blog, or in your emails. Whichever way you choose, your information, cause, or business will get a lot of exposure. But how do you know how many people are using, sharing, or viewing your infographic?
Embed and Link
When you create an infographic using Easel.ly, you'll see the "Share" drop-down menu in the Creation function (when you're editing and building your infographic). There are choices to share by email, share with link, or embed the code. If you share by email, your contacts will be sent to view the email in Easel.ly's "Public Visuals" section, and same with sharing the link. Using the Easel.ly space, you can also embed code that will take people directly to your image, and allow them to either use it themselves, or use it as a template for their own infographics.
If you have a blog or a website that you've created the infographic for, or you want to insert the image into your email or some other form of web-based communication, we strongly suggest that you embed the code. This allows your infographic to appear exactly where you want it to on your page, and has the added bonus of letting people see the infographic in larger detail by linking back to Easel.ly's site.
Don't know what embed codes are? Neither do we!
Just kidding! Basically, embed codes are lines of code that you source your image from – the "home base" of the infographic, so to speak. So whenever someone shares your image, that embed code follows the image, and the audience of anyone who shares your infographic can engage with it on Easel.ly when they click it. Embed codes are the little links at the top of images that often come in the form of "Click here to view larger image" or "Easel.ly" in the case of our platform.
But how in the world do you get the embed code?
Step 1: In the Creation window, click "Share" at the top of your toolbar.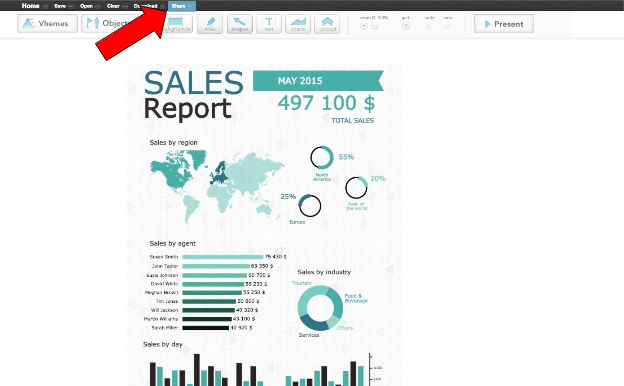 Step 2: Drop down to "Embed Code" and click it.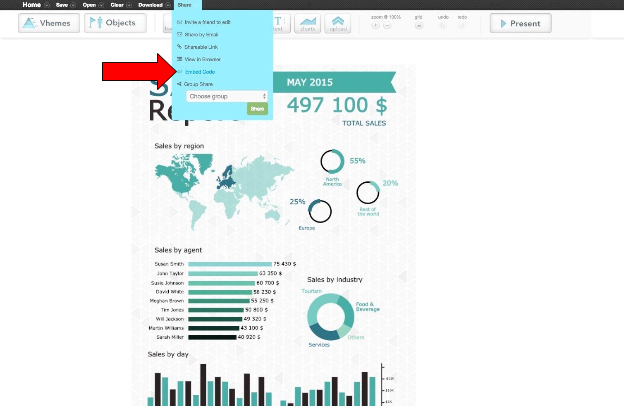 Step 3: Click "Copy" to save the code to your computer or mobile clipboard, then hit "Done."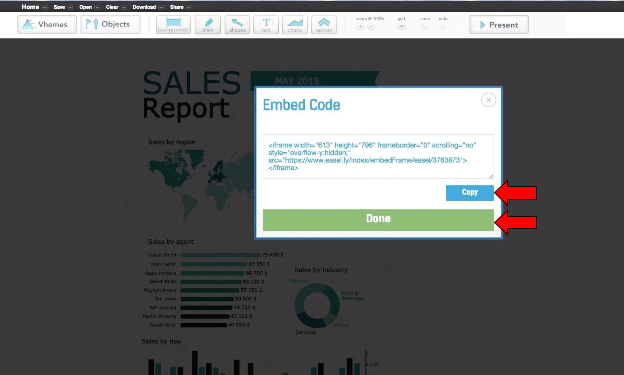 From there you can insert the code into your blog, website, or email template by inserting the code into your "Text" or "HTML" fields when creating a blog post, web page, or email in your chosen platform. Any time someone copies or shares your image, it will automatically embed the source and send people back to your infographic here on Easel.ly.
Bonus tip: Want to know how many people have viewed your infographic? In the same drop-down menu as the "Embed Code" button, there is a "View in Browser" option. Click that, and you'll be sent to the URL page for your infographic. In the top right hand corner, there is a counter for how many views your image has earned (clearly, we have some sharing to do for the infographic below).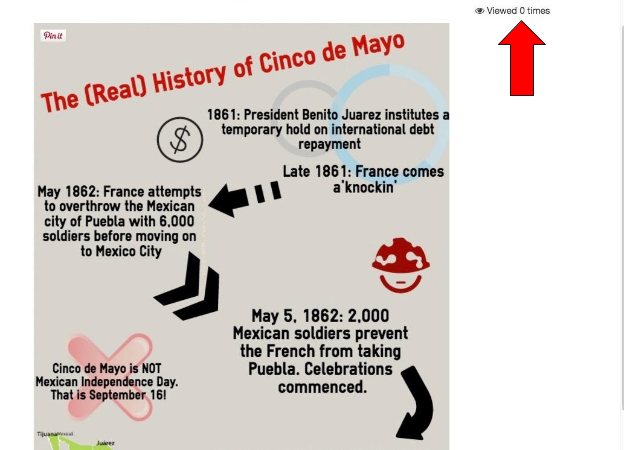 Have questions? Comment here or ask us a question on Twitter or Facebook.