In this article I am going to take you through a number of ways you can download and share content through Easel.ly
In the image that you can see below, you can notice all the ways to share content that are currently available; "Share as Template", "Share to Group", "Share to Twitter", "Share to Facebook" "Invite a friend to edit", "Share by Email", "Shareable Link", "View in Browser" and "Embed Code"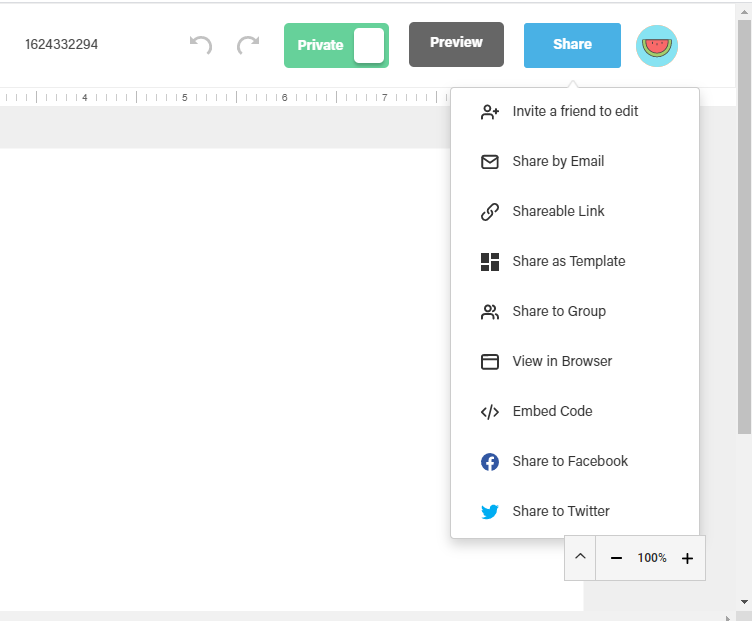 Invite a friend to edit: Collaboration is possible with this option. The person you share this to can make changes on your work if that person has an account.
Share as Template: This will allow you to share your newly created infographic as an editable template
Share By Email: This will allow you to share your infographic with just one other person. Only the person you share the infographic will be able to reuse it.
Share to Group: This will allow you to send your new or updated infographic directly with members of your work group
Share to Facebook/Twitter: Share your infographic directly to Facebook and Twitter
Shareable Link: A shareable link allows a user to both See and Reuse your infographic – The only people that can see and reuse the infographic are people who you give the link to.
View in Browser: This will let you see your work out of the edit page. A link is also available for you to share your work on Facebook and on Twitter.
Embed Code: If you would rather embed your infographic within a blog post and not have to download and upload to your blog, then "Embed Code" is the way to go.