Independence Day is traditionally celebrated in the USA on The Fourth of July. It's the day we celebrate the signing of the Declaration of Independence in 1776. Whilst we call this Independence Day, did you know that this wasn't actually when the U.S. gained its independence? Independence wasn't actually granted until the American Revolution ended in 1783, with the signing of the Treaty of Paris.
If you like our Independence Day images and infographics then hop on our template gallery where we've got loads of holiday based templates for you to customise and make your own.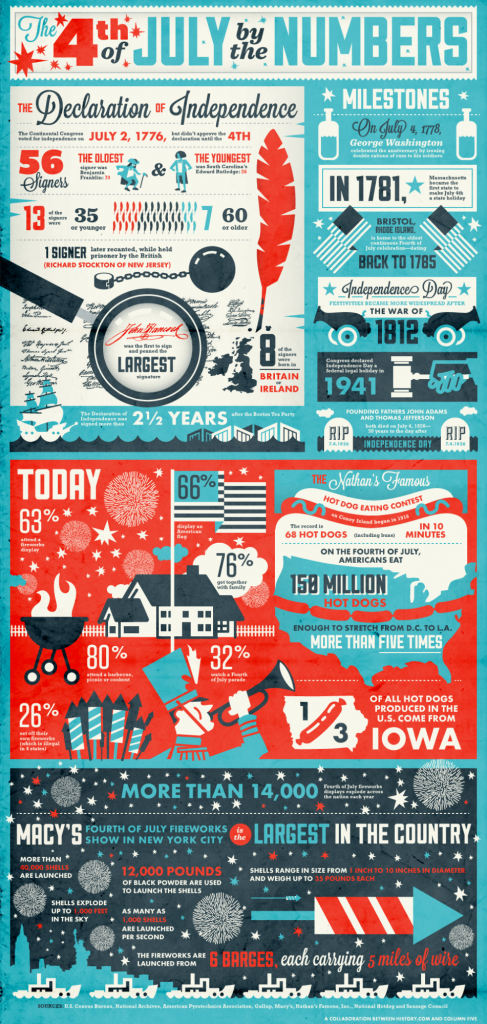 While citizens celebrated the bicentennial anniversary of the declaration in 1976, the national (paid) holiday wasn't declared until 1941 – 165 years after the signing of the Declaration.
Celebrating Independence Day
Today, the Fourth of July is a day for BBQs, fireworks displays, and much-needed time off. Did you know that the week before Independence Day is the largest revenue marker for hot dogs and fireworks, and it's expected that nearly 70% of all workers have the day off in the United States? On a slightly darker note, it's also the date of the most fire and firework-related injuries seen in hospitals, with nearly 12,000 people seeking treatment for their wounds and twelve people dying in 2015.
Whether you're in New York, New Jersey, Texas, or anywhere else, firework shows draw huge crowds and cost a ton of money. Of course, personal firework use is banned in Delaware, Massachusetts, New Jersey, New York, and Rhode Island, so keep that in mind! If you live somewhere with firework restrictions, pay close attention or you'll get fined an arm and a leg. If you have no restrictions and can enjoy fireworks freely, please be safe and responsible.

We at Easelly would like to wish you and yours a happy, safe, and sparkling Fourth of July.